Developing Environmentally Friendly Products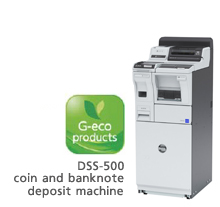 We are striving to achieve a low-carbon society and are engaged in continuous environmental conservation efforts. GLORY has set a long-term goal of a 30% reduction in CO2 emissions (compared to 2005) by its products during use, and we are engaged in developing environment-friendly products.
Our product assessments during new product development cover 64 categories, such as "energy efficiency" and "reuse-recycling" and compare the product under development to existing products. Based upon these assessments, products that meet standards such as "electric power use efficiency at least 15% better than existing products" and "chemical substance regulation-compliant" are designated "G-Eco Products" according to our own unique standards. The G-Eco Product logo will be applied to such products in catalogs and elsewhere, so that our customers will understand the environmental friendliness of our products.
We also conduct life cycle assessments (LCAs), which evaluate environmental impact at every stage of a product's life, from raw materials extraction through disposal.
Management of Chemical Substances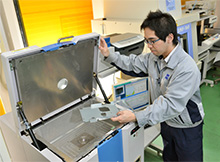 We thoroughly manage materials and parts to comply with the RoHS Directive, REACH and other regulations concerning chemical substance content.
In addition to confirming compliance with regulations concerning chemical substance content during the parts selection process, we carefully inspect all deliveries of parts using X-ray fluorescence spectrometers. We also measure chemical content amounts, which are registered in the Chemical Substance Control System, making it easy to tally amounts for the overall product. Furthermore, all new products are inspected for compliance with relevant regulations.
The cooperation of our suppliers is essential to chemical substance control. We request that our suppliers ensure that parts and materials shipped to us are compliant with the GLORY Green Procurement Standards, and that they provide data concerning chemical substance content.