Detailed information about our CSR initiatives is disclosed in our CSR report, and back issues are also available.
CSR Report 2019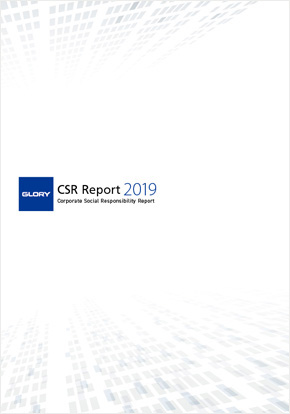 Table of Contents
・

Products and Services

・

Supply Chain Management

・

Human Resources

・

Social Initiatives

・

Environmental Management

・

Developing Environmentally Friendly Products

・

Reducing Environmental Impact in Business Activities

・

Preserving Biodiversity

・

2020 Medium-Term Environmental Plan

・

Corporate Governance

・

Risk Management

・

Compliance

・

Responsibility to Shareholders and Investors
Editorial Policy
The Glory CSR Report 2019 is intended to inform a wide range of stakeholders about Glory's understanding of CSR and the progress of its CSR initiatives.
We publish the report in both a booklet and on our website, which posts ESG data and other information not included in the booklet.
Report Subjects
This report generally describes the efforts of GLORY LTD. and related data. It will be explicitly stated if a particular item being reported concerns a specific Glory Group company or another company. Moreover, the report on environmental activities and environmental data covers the ISO 14001-certified offices of GLORY LTD. and the Glory Group.
Reporting Period
Fiscal year 2018 (April 1, 2018 to March 31, 2019)
(May include reporting of items occurring in or after April 2019.)
Publication Date
September 2019 (English edition)
(previous English edition: July 2018, next English edition: September 2020)
Referenced Guidelines
GRI Sustainability Reporting Standards 2016
2018 editions of Environmental Reporting Guidelines, Ministry of the Environment, Japan
Contact Information
GLORY LTD.
Corporate Communications Department, Management Strategy Headquarters
1-3-1 Shimoteno, Himeji, Hyogo 670-8567, Japan
Phone: +81-79-297-3131 
Back Issues

PDF Files require Adobe® Reader® software which is a free download from the Adobe site
Adobe Reader