Increasing our corporate value based on the concept of 'Core and new businesses powering growth together.'
Introduction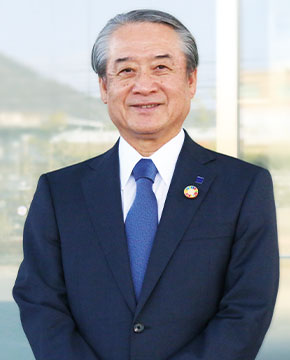 The COVID-19 pandemic has caused tremendous damage to the global economy and has had a major impact on the business activities of the Glory Group. Despite the uncertainty that surrounds the future, we will maintain our efforts to deliver value-added solutions that help resolve social issues and continue our business amid the pandemic with the highest priority on the safety of our customers, business partners and employees in a bid to realize a sustainable society.
Glory's DNA and Core Value
Since its founding in 1918, GLORY LTD. has been striving to create products that society demands through technological innovations, with the aim of continuously improving its corporate value. From our development of Japan's first coin counter for Japan Mint in 1950, we have worked to expand our market in the field of cash handling. Underlying this is a spirit of creating products that benefit people and society. The founder's vision has been embedded in our corporate philosophy of 'striving spirit and cooperative efforts' and has remained a part of our identity as we have grown into a global company with customers in more than 100 countries worldwide.
Glory's key advantages can be found in its ability to provide payment solutions entirely in-house to meet the needs of our customers, which can vary according to changes in the social environment. Capturing the trend of diverse payment methods, we acquired Acrelec Group S.A.S. (Acrelec) in April 2020 for roughly ¥24.0 billion. Based in France, Acrelec provides self-service kiosks to global fast-food chains and major retailers. Combining Acrelec's kiosks and its mobile ordering systems with Glory's CASHINFINITY™ Self-service coin and banknote recycler for cashiers (CI series), we now offer diverse cash and non-cash payment solutions to the overseas market.
In the domestic market, we have been developing solutions to meet the growing demands for contact-free, self-service operations in addition to streamlined, labor-saving systems. This includes 'Zero-Waiting Time', payment solution in medical institutions, and 'BioPay', biometric payment system with facial recognition technology.
With financial institutions reducing the number of branches and ATMs worldwide, access to cash is becoming a social issue. To this end, we acquired viafintech GmbH (viafintech) in January 2020, a German company that provides a cash payment platform, and have formed a capital and business alliance with SOCASH PTE. LTD., a Singapore-based fintech company that provides cash-out services. In August 2021, we entered into a partnership with an Austria-based company, paysafecard.com Wertkarten GmbH (paysafecard), one of the global leaders in the payment market. Following that, we invested in U.K.-based Unified Financial Limited (OneBanks) that provides shared service business for financial institutions. Through the collaboration with these companies, we aim to facilitate people's access to cash, while optimizing cash circulation in society.
Creating New Value
The COVID-19 pandemic has changed people's values and behavioral patterns, while accelerating the use of IoT and AI. With Digital Transformation (DX) becoming a key for our business growth, we have taken on new challenges in our efforts to 'enable a confident world', which is a key concept in our Long-Term Vision.
Glory's value is built on its R&D capabilities, solid customer base, Group-wide operations from development to after-sales service, global sales/service network, and a diverse lineup of employees that boast outstanding expertise in their respective fields. Supported by these elements and open innovation based on our core technologies, we aim to deliver new solutions that meet the needs of society, thus create new value of our company.
Formulating the 2023 Medium-Term Management Plan
Glory launched the 2023 Medium-Term Management Plan in April 2021, as the second step toward realizing its long-term vision, with the concept of 'Core and new businesses powering growth together.'
The 2023 Medium-Term Management Plan targets final year sales of ¥300 billion, with new business domains accounting for ¥40 billion, and operating income of ¥30 billion. The next page shows the priority measures set according to each of the three basic policies outlined in the 2023 Medium-Term Management Plan. In addition, we have formulated the Sustainability Policy, based on which we aim to contribute to the sustainable growth of society.


Policy 1
Accelerate business growth to develop the next generation.
We aim to establish new pillars of business that are highly compatible with our core business, by maximizing our key strengths such as our solid customer base and unique technologies.
Specifically, we will work to expand the sales in the businesses related to kiosk services, data management platforms (DMPs), and electronic payment solutions. We also aim to improve profit and expand operations in both biometric/image recognition and robot businesses utilizing our well-established domestic sales channels.


Policy 2
Maximize core business profits by innovation.
We aim to create new business models and optimize our product lineup, capturing the needs for labor-saving devices and contact-free/self-service products increased amid the COVID-19 pandemic.
Through these measures, we aim to expand sales in the overseas retail market as well as in emerging countries, while expanding our domestic sales to new customer segments. In addition, we endeavor to establish a more robust earnings structure by promoting cost reductions and efficient use of management resources.
In response to the expected issuance of new Japanese banknotes in 2024, we will endeavor to fulfill our social mission as a company that supports social infrastructure. Further, we aim to capture the replacement demand for our products which are compatible with the new banknotes.


Policy 3
Establish a management base to support sustainable growth.
We aim to optimize cash flow management to support the investment for growth and shareholder returns.
Our management structure will be further strengthened with DX, enabling prompt decision-making and improving productivity. In addition, optimized portfolio management will enable us to use our management resources effectively.
For our employees, our most important corporate resource, we strive to improve employee engagement, as we believe their job satisfaction is the driving force behind our growth.


Sustainability Policy
Contribute to the sustainable growth of society and promote measures to improve corporate value.
We aim to contribute to the sustainable development of society through our business that helps address social issues.
Specifically, we endeavor to address climate change, respect human rights, foster diversity in the workplace, and enhance our corporate governance.
Improving Corporate Value
In recent years, climate change has become an urgent issue, and the world is moving toward carbon neutrality. Glory considers this to be an important subject in extending its business across the globe, and it should be addressed irrespective of national, regional, or business boundaries.
In our efforts to enable a sustainable society, we promote ESG*-based management, thus strive to achieve the SDGs (Sustainable Development Goals). Initially, we have set specific targets for the reduction of CO2 emissions.
At Glory, we believe the actions of every employee should embody our corporate philosophy. Our corporate development is entrusted in our employees' capabilities to leverage our technologies to create value-added products and services that help resolve social issues. To this end, we will foster an environment where employees can fully demonstrate their abilities and take on new challenges, while establishing a corporate system to support the development of highly talented personnel.
In June 2020, Glory adopted a system of Company with an Audit & Supervisory Committee, in order to enhance the supervisory function of the Board of Directors and to accelerate the decision-making process. In June 2021, a senior employee of Glory Global Solutions, Ltd., was appointed as a member of our Board of Directors to strengthen the governance of our overseas Group companies.
By further promoting diversity and strengthening our corporate governance through ESG-oriented management, we will continue our efforts to grow as a corporate group that seeks to enhance the trust which our stakeholders place in us.
*ESG (Environmental, Social, and Governance)