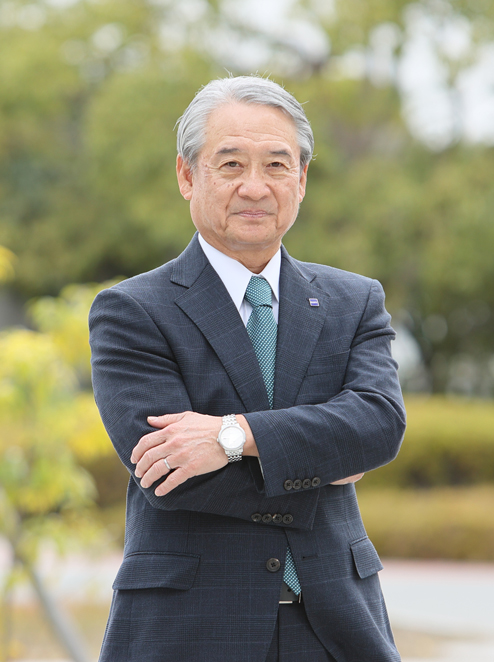 Progress of the 2023 Medium-Term Management Plan
In April 2021, the Group launched its three-year 2023 Medium-Term Management Plan, based on the concept of 'Core and new businesses powering growth together.' The plan has three basic policies: 'Accelerate business growth to develop the next generation,' 'Maximize core profits by innovation,' and 'Establish a management base to support sustainable growth.'
In fiscal 2021, the first year of the plan, the operating environment remained uncertain due to new outbreaks of COVID-19, delays in sales due to difficulties in procuring semiconductors and other components, and soaring component prices, as well as supply chain disruptions from the Russia-Ukraine situation and the lockdown in Shanghai. Despite such challenges, our investments in the overseas retail industry, an area of focus, bore fruit with overseas sales surpassing domestic sales for the first time.
Second-year initiatives of the 2023 Medium-Term Management Plan
In fiscal 2022 (ending March 2023), the second year of the 2023 Medium-Term Management Plan, we will continue implementing the basic policies set forth in the plan. The outlook remains uncertain due to ongoing difficulties in procuring parts for semiconductors and other products and continuing sharp rises in the cost of materials. However, demand for contact-free and self-service solutions is expected to remain strong both in Japan and overseas.
Seizing commercial opportunities in the cashless domain
The Glory Group's business, centered on cash handling machines, is sometimes seen as being the opposite of cashless. However, the progression of cashless transactions will provide significant commercial opportunities for the Group over the medium to long term, thanks to the diversification of payment methods and the development of self-service solutions. Within the huge global market, there are many untapped segments where we see opportunities for growth. Here, the mechatronics and recognition/identification technologies we have developed in the cash handling machines business, together with our service network covering all major world regions, give us a good advantage. Many products operating in the market are currently being upgraded to IoT-enabled devices, and valuable information obtained from such devices is being used for advancements in data, retail media, and other businesses, promising further expansion of our business domains.
Through efforts based on the concept of 'Core and new businesses powering growth together,' we will target sustainable enhancement of corporate value and ask our stakeholders for their continued support.