We enable a confident world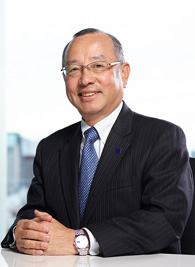 The Glory Group draws on its history as a pioneer in the development of cash handling machines since the introduction in 1950 of the first coin counter made in Japan. Today, we serve customers in the financial, retail and many other industries worldwide in more than 100 countries by supplying products and solutions that enable customers to operate with accuracy and efficiency. In March 2018, we celebrated the 100th anniversary of our foundation. We are grateful to shareholders and other stakeholders for their support.
It is expected that drastic changes will occur imminently in the business environment surrounding the Group. These include emergence of new payment mechanisms and digital currencies realized by adoption of rapidly advancing technology, population increase centered in the emerging economies, and rapid acceleration of population aging in Japan. Taking these changes as an opportunity, we aim to deliver renewed value to the society in the "Long-Term Vision 2028." To achieve this goal, we will endeavor to create next-generation products and services through advancement of the core technologies built in the development of cash handling machines and promotion of open innovation (Please click here for more information). We deliver secure, efficient payment systems and instant, highly accurate identity verification and authentication solutions that enable confidence in transactions and other interactions between businesses and people.
The Group has started the three-year 2020 Medium-Term Management Plan, which started in April 2018 in order to realize the newly established "Long-Term Vision 2028." This plan is positioned as the "preparation for realizing long-term vision" and will be promoted on the basis of three basic policies of "building foundations for realizing sustainable business management," "strengthening collaboration with various partners to solve social issues," and "realizing higher productivity and robust corporate constitution that directly generate outcome." (Please click here for more information).
We ask for your continued support and understanding as we satisfy social obligation to our customers, shareholders and all other stakeholders through a continuous improvement in corporate value.
May 2018

Hirokazu Onoe
President