Corporate Philosophy
We will contribute to the development of a more secure society through a striving spirit and co-operative efforts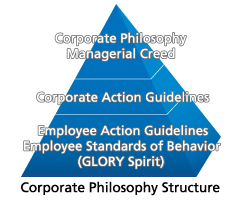 Our corporate philosophy represents GLORY's corporate goal and raison d'être.
"Striving spirit" includes our desire that "we will strive to meet the needs of customers and society with an unyielding spirit and make the impossible possible".
It represents the eternal origin of GLORY all through the ages that we can do a great job only when we combine the "power of everyone" who shares the "striving spirit".
Keeping the origin in mind, GLORY will contribute to the creation of a safe and secure society from now on.
Management Creed
●

Through a spirit of continuous development, we will provide products and services our customers can rely on.

●

We will build a vigorous corporate group through respect for the individual and teamwork.

●

We will endeavor to act as responsible corporate citizens and co-exist harmoniously with society at large.
Our managerial creed expresses what GLORY should aspire to and our management stance. In short, it constitutes our basic philosophy of management.
The three components of the managerial creed express our stance toward our customers and business operations, toward our employees, and toward society as a whole.
Corporate Action Guidelines
Business continuity / Securing profit / Profit redistribution
We will maintain profit stability by developing businesses based on the corporate philosophy and contribute towards building a sustainable society.
Quality / Safety / Customer satisfaction
We will provide products and services in a timely manner to win the confidence and satisfaction of customers.
Information management
We will protect information such as personal data and company information.
Respect for individuals / Talent development / Workplace safety
We will respect each other's personality and individuality and strive to create an enriching and pleasant work environment.
Example by leadership / Publicity
Under the strong leadership of the management, we will disseminate the Corporate Action Guidelines within the company and business partners, and strive to achieve them.
Legal compliance / Fair competition / Opposition to antisocial forces
We will comply with laws and regulations and respect social ethical standards, engage in transparent and fair business activities, and will not have relationships with parties that act anti-socially.
Information disclosure / Communication and cooperation with stakeholders
We will communicate with stakeholders and strive for appropriate information disclosure.
Contribution to society
We will harmonize and advance the interests of the company and society, and actively participate in social action programs as a "good corporate citizen".
Environmental protection
We will act in earth-friendly ways and endeavor to provide environmentally-conscious products with services that contribute to a sustainable society.
International cooperation
We will engage in business activities in an internationally harmonized manner from a global perspective.
Risk management
We will strive to prevent and avoid business risk and to reduce disaster loss. We will ensure security of stakeholders.
Employees Action Guidelines
●

Value the customers' trust

●

Think for yourself; be a self-starter

●

Challenge yourselves with a flexible mind-set

●

Act with cost-consciousness

●

Maintain a positive attitude at all times
Employee standard of behavior (GLORY Spirit)
●

We always strive to create value for our customers.

●

We understand the objectives of our own work and are proactive in achieving our goals.

●

We respect diversity and create a culture of collaboration to work with each other to achieve a common goal.

●

We understand GLORY's mission and act with responsibility and pride to help achieve this.

●

As a member of GLORY, we act and behave with high integrity and a strong sense of ethics.

●

We leverage our own talent and achieve personal development by adopting a broader perspective and looking beyond our own work.

●

We maintain a positive attitude and approach our work with energy and enthusiasm.
Vision
We enable a confident world
Safe and secure transactions are critical to your business,
and your customers.
We deliver secure, efficient payment systems and instant,
highly accurate identity verification and authentication solutions
that enable confidence in transactions and other interactions
between businesses and people.
Our innovative technologies, our experienced professionals
and our commitment to the success of our customers,
partners and communities create a safe, confident path forward.
We are Glory – we enable a confident world for a better tomorrow.
Tagline