The Glory Group has been working to preserve the environment through initiatives to reduce environmental impact of its business activities. Through these initiatives, we support the reduction of CO2 emissions, appropriate management of chemical substances, and an efficient use of available resources.
Responding to Climate Change
Glory's Environmental Policies covers the mitigation of global warming. We regularly monitor our greenhouse gas emissions and work to reduce those emissions from all of our supply chains.
In support of the long-term goals agreed upon in the United Nations Framework Convention on Climate Change (Paris Agreement) that promotes the reduction of greenhouse gas emissions by 2050, we have set our own long-term environmental sustainability goals to reduce CO2 emissions and to address climate change.
Supporting TCFD

Since November 2021, we have been supporting the Task Force on Climate-related Financial Disclosures (TCFD), in the recognition that climate change is an urgent global issue to be addressed. We are committed to disclose information regarding risks and opportunities that climate change presents to our business, and this covers the areas of governance, strategies, risk management, indicators and targets.
Towards Carbon Neutrality
The Glory Group has set "FY2050 Environmental Sustainability Goals", aiming for net-zero CO2 emissions by FY2050. These goals are aligned with Glory's environmental policies and the idea of carbon neutral society. Casting back from the FY2050 Environmental Sustainability Goals, we have set FY2030 Environmental Sustainability Goals as a milestone to reduce CO2 emissions by 50% compared to FY2013.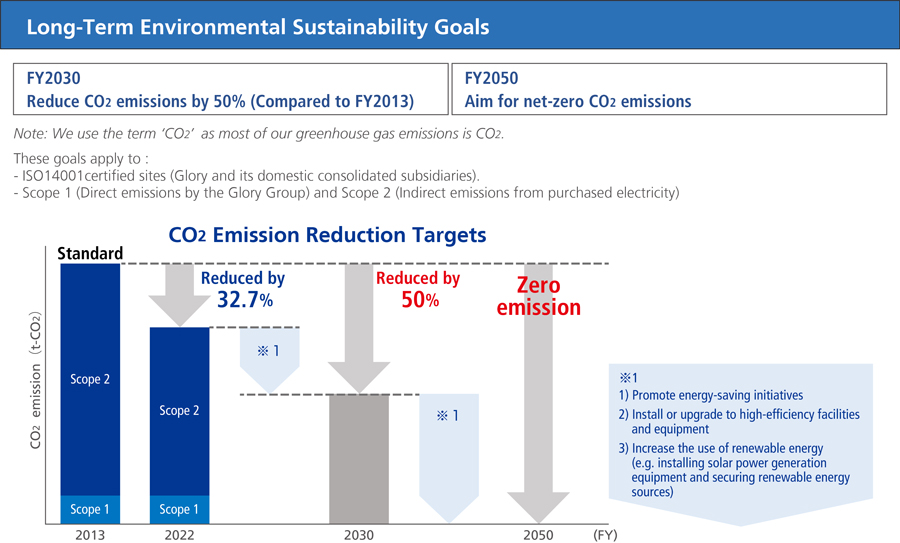 Initiatives to reduce and control CO2 emissions
We monitor our CO2 emissions regularly and disclose the figures over time for;
Scope 1 - Direct emissions from our business activities
Scope 2 - Indirect emissions from purchased electricity
Scope 3 - All other indirect emissions from upstream and downstream activities in supply chains
Reduce Scope 1 and 2 emissions (Domestic & Overseas)
We have established 3-year action plans and annual goals to reduce CO2 emissions. Our initiatives include installation of electricity usage monitoring system, LED lighting, and human detection sensors. We have also installed solar power system on the rooftop of the Head Office buildings for the use of renewable energy.
Annual CO2Emissions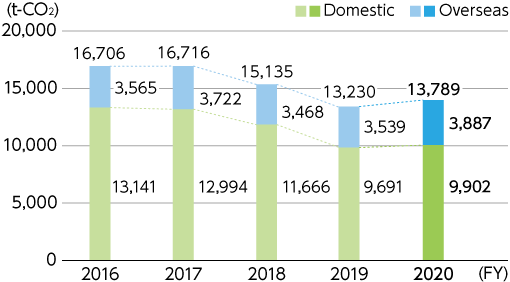 *ISO14001 certified sites (Glory and its domestic and overseas consolidated subsidiaries)
In FY2020, CO2 emissions from our domestic sites decreased by 27.5% compared to FY2013. The reasons behind this reduction are the introduction of LED lighting in our branch offices, and the pandemic-related changes such as decreased use of vehicles due to travel restrictions and decreased energy consumption in offices due to Work-From-Home initiatives.
Control Scope 3 emissions (Domestic)
We calculate our CO2 emissions created by our supply chains to understand the current status and to reduce the environmental impact of our business activities. In Scope 3, we categorize these emissions to visualize the trend to control the CO2 emissions created outside our business activities.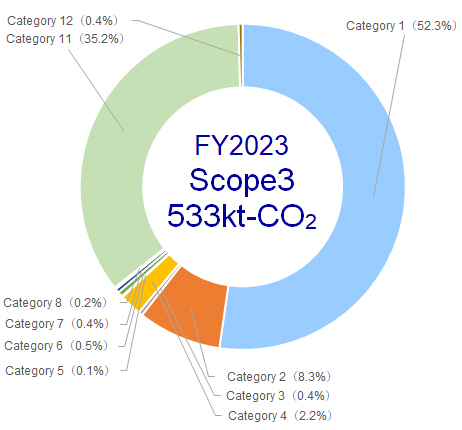 Scope 3
Category 1: Purchased goods and services
Category 2: Capital goods
Category 3: Fuel and energy-related activities not included in Scope 1 or 2
Category 4: Upstream transportation and distribution
Category 5: Waste generated in operations
Category 6: Business travel
Category 7: Employee commuting
Category 8: Upstream leased assets
Category 11: Use of sold products
Category 12: End-of-life treatment of sold products
*Category 9, 10, 13, 14 and 15 are not applicable to our business.
Category 1 (Purchased products and services) and Category 11 (Use of our products) are the main target for CO2 reduction, as they account for 85% of the Scope 3 emissions.
Management and Reduction of Chemical Substances
We carefully manage the chemical substances used in production, and are gradually switching our production materials to the ones with a low impact on human health. The factories manage and issue semi-annual reports on the amount of chemical substances used. We provide the required training to the factory employees who handle chemical substances, including those subject to the Law concerning Pollutant Release and Transfer Register (PRTR Law). Employees carry Safety Data Sheets (SDS) containing the information on chemical substance safety, so that they can be aware of precautions and emergency procedures.
Volume of PRTR Law-Listed Substances (Domestic)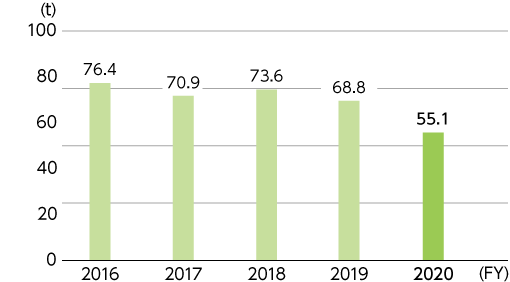 Efficient Use of Resources
Glory promotes the 3Rs (Reduce, Reuse, Recycle) to support the further development of recycling-based society.
For resource efficiency, we are constantly working to improve our production processes. This includes raising parts manufacturing yields and reducing the number of manufacturing trials to cut down on the volume of materials used.
Our factories and offices are going paperless, while we promote the use of returnable containers for deliveries from suppliers, and the reuse of cushioning materials for parts shipping within the Group.
We ensure that wastes are properly sorted before being disposed for recycling. As a part of our zero emission initiatives, we are currently working to achieve a recycling rate of 99.5% at all our production sites.
Waste Volume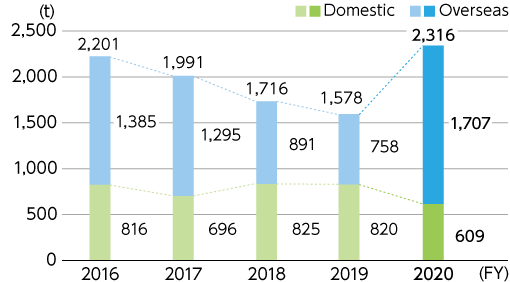 *ISO14001 certified sites (Glory and its domestic and overseas consolidated subsidiaries)
*An increase in FY2020 was subject to the changes made to our product disposal procedures and the launch of new factory in our overseas production site.
Water Usage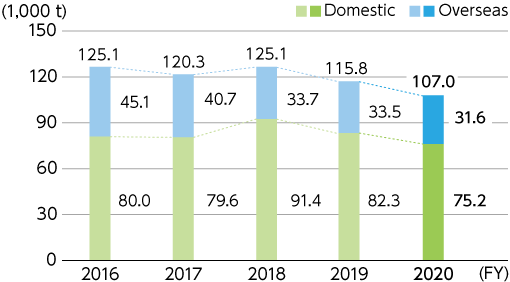 *ISO14001 certified sites (Glory and its domestic and overseas consolidated subsidiaries)
Zero-Emission Sites (Domestic)
| FY | 2016 | 2017 | 2018 | 2019 | 2020 |
| --- | --- | --- | --- | --- | --- |
| Number of sites | 8 | 8 | 8 | 8 | 8 |
*ISO14001 certified sites (Glory and its domestic consolidated subsidiaries)