Glory continuously strives to preserve the Earth's environment and reduce environmental impact by reducing CO2 emissions, managing chemical substances, and effectively using resources.
Environmental Impact of Business Operations (Material Balance)

Response to Climate Change
"Mitigation of Global Warming" has been established as a theme of the Glory Environmental Vision, and we are working to cut emissions of CO2.
Under this part of the vision, we have adopted highly efficient production equipment to cut CO2 emissions. We have also been installing power monitoring systems (demand monitoring functions), LED lighting, and human detection sensors at our business sites while setting up a solar power system on the roof of the head office for the use of renewable energy sources.
Furthermore, we are promoting a modal shift by switching transport from trucks to railways and ships as a means of improving shipping efficiency with lighter weight packing materials in order to reduce the burden on the environment.
CO2Emissions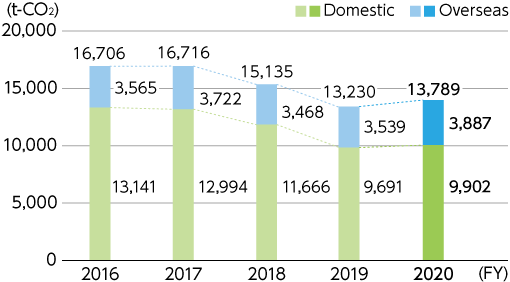 Energy Consumption per Employee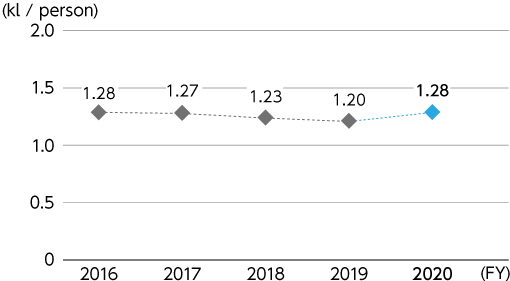 CO2 Emissions for each Scope
Scope and Category
FY2020
Emissions(t-CO2)
Ratio(%)
Previous year's comparison
Scope 1
1,567
0.4
56.0%
Scope 2
12,222
3.4
0.00%
Scope 3
341,490
96.1
-9.4%
Category 1
Purchased goods and services
136,442.45
39.96
-9.8%
Category 2
Capital goods
32,625.65
9.55
-8.9%
Category 3
Fuel- and energy-related activities
2,023.85
0.59
-1.9%
Category 4
Upstream transportation and distribution
9,229.14
2.70
-13.8%
Category 5
Waste generated in operations
830.63
0.24
46.8%
Category 6
Business travel
1,430.36
0.42
-51.1%
Category 7
Employee commuting
2,754.90
0.81
-4.7%
Category 8
Upstream leased assets
776.47
0.23
-16.3%
Category 9
Downstream transportation and distribution
Not applicable
ー
ー
Category 10
Processing of sold products Not applicable
Not applicable
ー
ー
Category 11
Use of sold products
153,850.57
45.05
-8.5%
Category 12
End-of-life treatment of sold products
1,525.94
0.45
-13.8%
Category 13
Downstream leased assets Not applicable
Not applicable
ー
ー
Category 14
Franchises
Not applicable
ー
ー
Category 15
Investments
Not applicable
ー
ー
Total of Scope 1, 2, and 3
341,489.94
100.00
-9.4%
*Boundaries for each Scope are as follows.
Scope 1: GLORY LTD. and domestic and overseas Group companies that have acquired ISO 14001 certification
Scope 2: GLORY LTD. and domestic and overseas Group companies that have acquired ISO 14001 certification
Scope 3: 1. Purchased goods and services, 2. Capital goods, 3. Fuel- and energyrelated activities not included in Scope 1 or 2, 4. Upstream transportation and distribution, 5. Waste generated in operations, 6. Business travel, 7. Employee commuting, 8. Upstream leased assets, 11. Use of sold products, and 12. End-of-life treatment of sold products
Management and Reduction of Chemical Substances
We thoroughly manage the chemical substances used in production and are making progress in switching to chemical substances with a low impact on human health. The factories manage and issue semi-annual reports about the amount of chemical substances they use. Factory employees who use chemical substances, including those subject to the Law concerning Pollutant Release and Transfer Register (PRTR Law), are trained in chemical substance handling. Safety data sheets (SDS) containing chemical substance safety data are always on hand so employees can, as necessary, confirm precautions when handling these substances as well as response procedures for emergencies.
Volume of PRTR Law-Listed Substances (Domestic)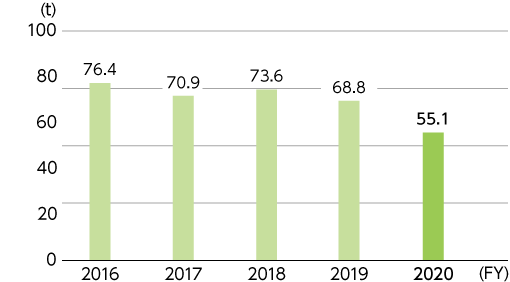 Effective Use of Resources
Glory is engaged in 3R (reduce, reuse, recycle) efforts to contribute to creating a recycling-oriented society.
In order to use resources more effectively, we are improving our production processes, raising parts manufacturing yields, and reducing the number of manufacturing trials to cut down on the volume of materials used. In addition, our factories and offices are going paperless, returnable containers are being used for deliveries from suppliers, and efforts are being made to reduce the volume of packing material. Also, we are reusing cushioning materials used for intra-Group parts shipping. Wastes are thoroughly separated when we dispose of them in order to increase recycling rates. Moreover, we have established a recycling rate of 99.5% as our zero emissions target and intend to achieve it at our production sites.
Waste Volume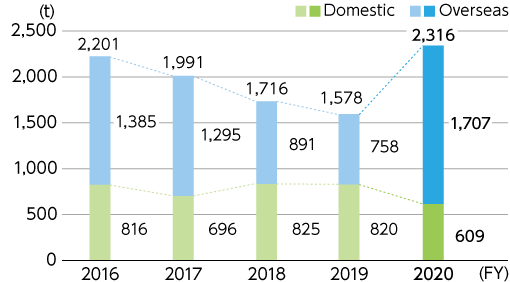 Water Use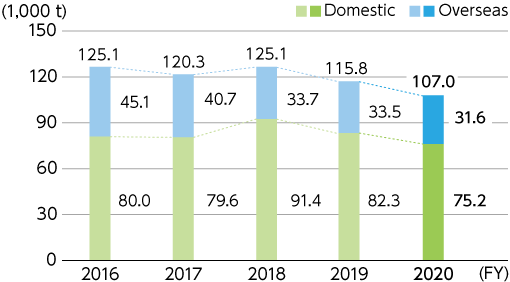 Zero-Emission Sites (Domestic)
| FY | 2016 | 2017 | 2018 | 2019 | 2020 |
| --- | --- | --- | --- | --- | --- |
| Number of sites | 8 | 8 | 8 | 8 | 8 |
*Domestic business sites that have acquired ISO 14001 certification