The Glory Group considers climate change as an urgent issue to be addressed and promotes environmental management through initiatives including reduction of greenhouse gas emissions to contribute to sustainable society.
Basic Approach to Climate Change
Glory's Environmental Policies address global warming and set forth a long-term goal to achieve carbon neutrality by 2050.
Specifically, we will work to bring our greenhouse gas emissions closer to zero and achieve carbon neutrality in our supply chains, in support of the 2050 goals agreed upon in the United Nations Framework Convention on Climate Change (Paris Agreement).
Information Disclosure Based on TCFD Recommendations

Since November 2021, the Glory group has been supporting the Task Force on Climate-related Financial Disclosures (TCFD). We are committed to disclosing information regarding risks and opportunities that climate change presents to our business.
Governance
Towards carbon neutrality and sustainable society, we promote sound management practices to reduce the environmental burden in every aspect of our business activities. To ensure sound decision-making and supervision for our business execution, we have put in place the following procedure.
Climate-related issues are first dealt by the Environmental Management Committee, chaired by the executive officer who is delegated the authority and responsibility by the President for environmental management. The Environmental Management Committee deliberates upon climate-related matters, of which material issues are reported to and approved by the Sustainability Committee chaired by the President.
Finally, these issues are reported to the Board of Directors and this process is stipulated in the Sustainability Committee regulations.
Strategies
Following are our potential climate-related risks and opportunities.
We will conduct scenario analysis guided by international organizations' reports, through which we will review the impact of the risks and opportunities as per our business models which covers the entire value chains.
Risks and Opportunities
Category
Overview
Transition risks
Policies, laws and regulations
Higher energy cost with the introduction of carbon tax etc. and increased capital investment to enable greater energy conservation and use of renewable energy
Damage to corporate value by violation of country-specific laws and regulations
Technology development & Market
Loss of sales opportunities due to delays in the development of environmentally friendly products and services
Physical risks
Acute risks
Disruptions to operations at manufacturing and logistics sites due to intensifying natural disasters
Chronic risks
Rising sea levels impacting on low-lying manufacturing and logistics sites
Opportunities
Products & Services
Increased sales supported by the development and distribution of environmentally friendly products and services
Risk management
The Risk Management Committee, chaired by the President, extracts and reviews potential risks in all areas including climate change and identifies material issues.
To address these risks, we apply an environmental management system and follow the PDCA cycle in alignment with Glory's business activities.
Identified risks and opportunities are reviewed in the Environmental Management Committee.
Metrics & Targets
The Glory Group uses CO2 emissions as the key metrics for climate-related risks and opportunities and has set "FY2050 Environmental Sustainability Goals", aiming for net-zero CO2 emissions by FY2050. These goals are aligned with Glory's environmental policies and the idea of carbon neutral society. Casting back from the FY2050 Environmental Sustainability Goals, we have set FY2030 Environmental Sustainability Goals as a milestone to reduce CO2 emissions by 50% compared to FY2013.
To monitor the KPIs, we have formulated the Medium-Term Environmental Plan with specific targets to be achieved within the three years covered in the plan. In the first year (FY2021), we achieved a 25.9% reduction compared to FY2013.
Going forward, we will start examining the ways to reduce Scope 3 emissions in the supply chain.
Aiming for carbon neutrality in FY2050, we will continue our initiatives, such as planned update to energy-efficient equipment at manufacturing sites, and increase the use of renewable energy through solar power generation and renewable energy procurement (purchase with Renewable Energy Certificate).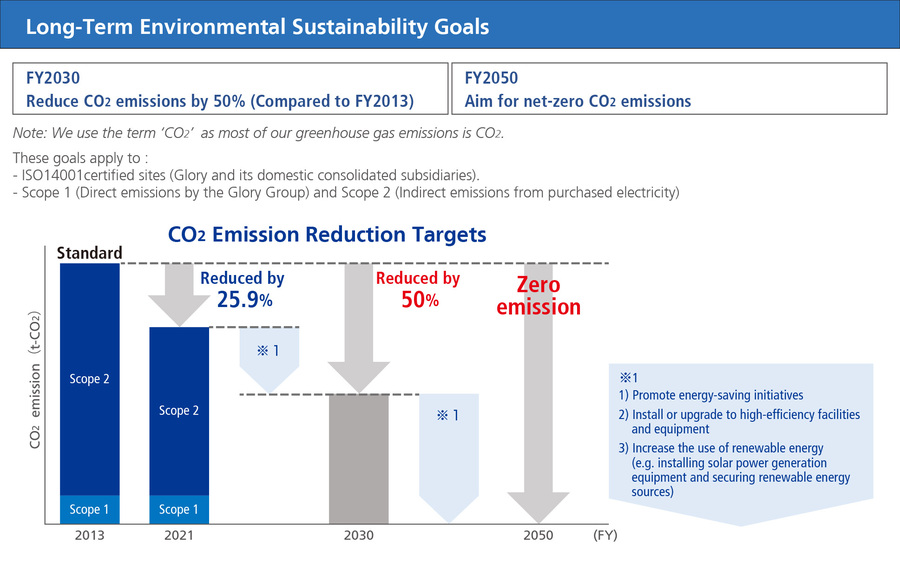 Initiatives to reduce and control CO2 emissions
We monitor our CO2 emissions regularly and disclose the figures over time for;
Scope 1 - Direct emissions from our business activities
Scope 2 - Indirect emissions from purchased electricity
Scope 3 - All other indirect emissions from upstream and downstream activities in supply chains
Reduce Scope 1 and 2 emissions (Domestic & Overseas)
We have established 3-year action plans and annual goals to reduce CO2 emissions. Our initiatives include installation of electricity usage monitoring system, LED lighting, and human detection sensors. We have also installed solar power system on the rooftop of the Head Office buildings for the use of renewable energy.
Annual CO2 Emissions
In fiscal 2021, CO2 emissions from our domestic sites decreased by 25.9% compared to fiscal 2013. The usage at our offices decreased as a result of teleworking measure to prevent the spread of COVID-19.
Control Scope 3 emissions (Domestic)
We calculate our CO2 emissions created by our supply chains to understand the current status and to reduce the environmental impact of our business activities. In Scope 3, we categorize these emissions to visualize the trend to control the CO2 emissions created outside our business activities.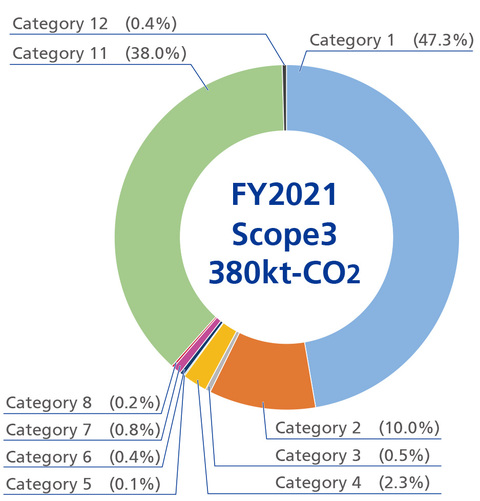 Scope 3
Category 1: Purchased goods and services
Category 2: Capital goods
Category 3: Fuel and energy-related activities not included in Scope 1 or 2
Category 4: Upstream transportation and distribution
Category 5: Waste generated in operations
Category 6: Business travel
Category 7: Employee commuting
Category 8: Upstream leased assets
Category 11: Use of sold products
Category 12: End-of-life treatment of sold products
*Category 9, 10, 13, 14 and 15 are not applicable to our business.
Category 1 (Purchased products and services) and Category 11 (Use of our products) are the main target for CO2 reduction, as they account for 85% of the Scope 3 emissions.