Forest Conservation in the GLORY Yumesaki Forest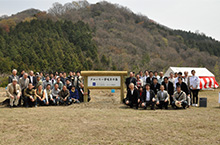 Biodiversity means the existence of a wide variety of living things on Earth. As the natural environment is degraded through economic activity there occurs a loss of balance in the number and variety of organisms, and efforts to preserve diversity are required.
GLORY has been engaged in forest conservation aimed at biodiversity preservation since April 2011. The place where we conduct these activities is called the Yumesaki Forest, which is a name created based on the hope that it be a "forest where dreams (yume) bloom (saki)."
Forest Conservation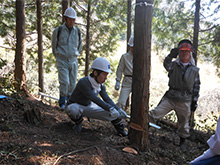 We conduct forest conservation activities from the beginning of spring to early summer every year. We thin out the undergrowth among the hinoki cypress and broadleaf groves to help the plants on the forest floor grow and to preserve plant diversity. We also plant conventional trees such as mountain cherry and konara oak for conservation of the species.
Botanical Survey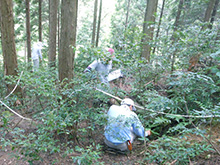 GLORY teams conduct a botanical survey jointly with specialists to look into the types and growth statuses of plant life and to confirm how plant life is changing as a result of forest conservation. During the course of conducting the survey, including the bio-assessment, it was also confirmed that a rare species of woodpecker and a frog listed in the Local Red Data Book are living in the area.
We will continue to conduct this survey on a regular basis to confirm the propriety of the measures being taken as well as for determining the policy for our future activities.
Efforts to Educate the Next Generation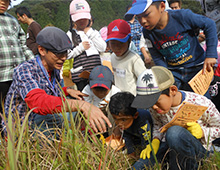 Each year in autumn we hold the Kids' Nature Workshop, an "experience nature" event for employees and their children. Programs designed for fun in nature are conducted with the goal of relaying the importance of nature to the next generation.
Employees who participated voiced impressions such as "the children had valuable experiences" and "it was good that the parents and children had fun together."
Forest Conservation in the Kanto Area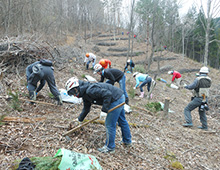 Since 2013, GLORY employees in Kanto area have been participating in volunteer activities sponsored by NPO. One of the activities is the site preparation and plantation for the forest conservation at Nagano Prefecture and the other activity is the garbage collection for cleaning the Arakawa dry riverbed in Tokyo.