Glory is engaged in a variety of activities for preserving biodiversity in collaboration with stakeholders such as local communities and incorporated NPOs.
Biodiversity Initiatives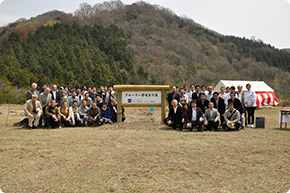 Society receives immense benefits from nature, and therefore efforts to maintain and preserve biodiversity are necessary to enjoy these benefits continuously and far into the future.
Glory clearly recognizes the impact of its business activities on biodiversity and pursues a variety of initiatives to maintain and preserve biodiversity in collaboration with stakeholders, including local communities and NPOs.
Activities in the Glory Yumesaki Forest
Forest Conservation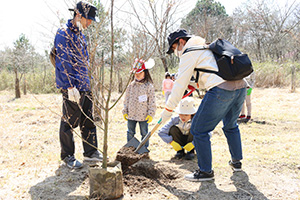 Glory has been participating in forest conservation activities in the Glory Yumesaki Forest located in Himeji, Hyogo in collaboration with the forestry cooperative.
We thin out one hectare of undergrowth per year among the hinoki cypress and broadleaf groves and plant 20 trees per year, mainly broadleaf trees including mountain cherry and konara oak, from the beginning of spring to early summer every year. We strive to reproduce and maintain the rich natural environment by forming favorable environments for village forests.
In fiscal 2021, to prevent the spread of COVID-19 and ensure the safety of everyone involved, we decided to cancel the employee involved activities. Instead, we collaborated with the forestry cooperative to thin the forest and plant new trees.
Botanical Survey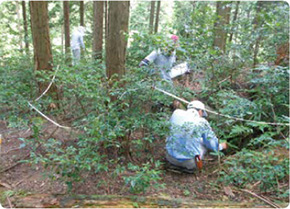 We conduct joint botanical and biological surveys with specialists to look into the types and growth status of plant life and scientifically examine the effectiveness of the Glory Yumesaki Forest for preserving biodiversity. During surveys, it was also confirmed that a rare species of woodpecker and frog, listed in the Hyogo Prefectural version of the Local Red Data Book were living in the area. We will continue to conduct this survey periodically in order to confirm the effectiveness of forest conservation as well as to determine what policies are required for future activities.
In fiscal 2021, we held a botanical survey in the area where we conducted tree-planting between fiscal 2011 and fiscal 2021. The survey found that the carbon fixation of this area has risen by 315 tons.
Efforts to Educate the Next Generation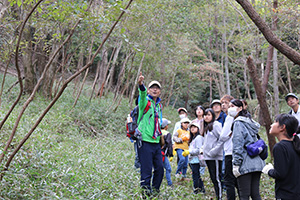 Each year in autumn we hold the Kids' Nature Workshop. Various programs are designed for parents and children to stroll through the forest while observing insects and plants and to have fun in nature with the goal of passing on an appreciation of it to the next generation.
In fiscal 2021, to prevent the spread of COVID-19 and to ensure the safety of everyone involved, we decided to cancel the workshop. Instead of this, we provide the Beetle raising kit for employee's children as a biodiversity learning program
Activities in the Kanto Region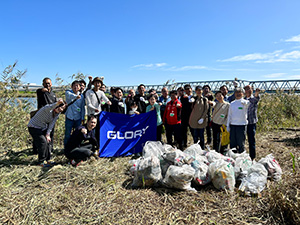 In fiscal 2013, Glory began expanding its activities into the Kanto region topreserve biodiversity in collaboration with NPOs.
Since fiscal 2017, we have participated in the Restoring Satoyama project in a designated greenery conservation area in Hachioji, Tokyo as a forest conservation activity. We also conduct a clean-up on the banks of the Arakawa River, Tokyo and offer opportunities to learn about biodiversity with the aim of promoting environmental preservation.
In fiscal 2021, events were cancelled due to preventing the spread of COVID-19 and ensuring the safety of all involved.