Environmental Management System
The GLORY Group considers environmental conservation to be an important factor in management, and therefore we have implemented an ISO 14001-compliant environmental management system to reduce environmental impact in every aspect of our business. The environmental management system covers a broad range of our activities, from energy conservation, resource conservation, waste reduction and appropriate chemical substance management through environmentally friendly product development.
In March 2002, the head office site was the first within the Group to acquire ISO 14001, and currently the certification has spread to the GLORY main business sites, regional offices, and Group manufacturing companies. We are also working toward the ISO certification acquisition and for comprehensive environmental impact reduction efforts to promote environmental conservation at overseas Group companies as well.
ISO 14001 Certification Status (As of April 1, 2018)
GLORY LTD.
14 sites
Head Office/Factory, Tokyo Office, Shinagawa Business Place, Saitama Factory, Himeji Distribution Center, Tohoku Regional Office, Joshinetsu Regional Office, Kanto Regional Office, Tokyo Regional Office, Tokai Regional Office, Kinki Regional Office, Chugoku Regional Office, Shikoku Regional Office, Kyushu Regional Office
Domestic Group companies
6 companies, 12 sites

GLORY Products Ltd.: Head Office/Fukusaki Factory, Kasai Factory, Sayo Factory, Ichikawa Factory
GLORY AZ System Co., Ltd.: Head Office/Nishinomiya Office, Tokyo Office
GLORY System Create Ltd.: Himeji Head Office, Tokyo Office
GLORY Engineering Ltd.: Head Office, Himeji Office
GLORY Friendly Co., Ltd.
GLORY Mechatronics Ltd.

Overseas Group companies
5 companies, 5 sites

GLORY (PHILIPPINES), INC.
GLORY Denshi Kogyo (Suzhou) Ltd.
Glory Global Solutions Inc.
Glory Global Solutions (France) S.A.S.
Glory Global Solutions (Germany) GmbH
Environmental Management Framework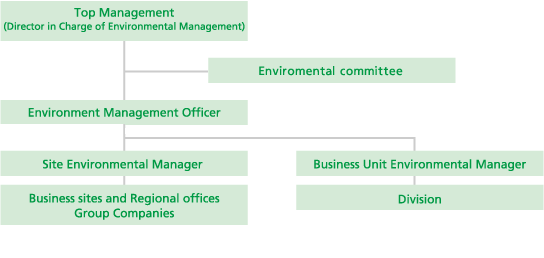 Environmental Education
We conduct environmental education programs because we believe correct understanding of the impact of our business activities on the environment is important to continuous efforts to reduce environmental impact.
In addition to including environmental management system requirements in new employee training, we also conduct variety of educational programs, such as management training for newly appointed managers and training on environmentally friendly designing for product designers.
Moreover, we seek to improve employees' expertise by executing internal environmental auditor training, waste management training.
Internal Environmental Auditing
We task internal environmental auditors with performing environmental audits to improve the effectiveness of the environmental management system.
The internal auditor visits our business sites to confirm that the operations are in line with the environmental management system and to propose improvements. The results of the audit are shared throughout the Group by all employees to take a bottom-up approach in our efforts. Compliance is also an important audit item, so the environmental audit confirms compliance with environmental regulations, as well as the status of reports to the authorities.
We conduct internal auditor training prior to the audit to improve the level of the audit and to respond to laws and social circumstances, which change year by year. This helps auditors identify changes to laws as well as other items that must be prioritized in audits.
Environmental Risk Management
We conduct environmental impact assessments to reduce environmental risk, and stipulate the response procedures for specific risks. We ensure that internal systems are in place, and also conduct thorough employee education, by emphasizing risks involved in industrial waste processing and hazardous materials management.
Waste management systems are in place at each site for proper industrial waste processing, and in addition to thorough training of employees in charge of waste management, we apply strict standards in selecting waste processing contractors and conduct on-site inspections.
As well as stipulating response procedures in the event of an emergency involving an oil spill, we regularly hold simulation drills.
Compliance with Environmental Laws
GLORY views thorough operational compliance as an important aspect of environmental conservation. We regularly identify changes to laws, and confirm our own compliance status twice a year. Also, on-site inspections are conducted at each site during internal environmental audits.
These audits have confirmed no serious non-compliance problems or accidents that have impacted the environment.