We support various international rules related to human rights and respect for basic human rights.
Basic Concept
All employees must abide by Glory's Corporate Action Guidelines, which stipulate rules on respect for individuals, talent development, and workplace safety. They also clearly call for respect for other employees' diversity, personalities, individual differences, and— above all—human rights. In addition, the Glory Legal Code of Conduct governing the laws and codes of ethics, which all Glory Group employees and business partners are expected to follow, stipulate the protection of human rights, including prohibition of discrimination and harassment, to ensure that human rights are respected in the course of conducting business and establishing the work environment. We also recognize various international rules related to human rights, such as the International Bill of Human Rights and Guiding Principles on Business and Human Rights as well as the respective laws of each nation or region.
Furthermore, the Glory Group has signed and participates in the United Nations Global Compact, which advocates universal principles covering the four areas of human rights, labor, the environment, and anticorruption. The Group will continue to ensure respect for human rights as a cornerstone of its management.
Consultation and Whistleblowing System for Human Rights
Glory has set up internal and external consultation services or helplines to handle inquiries and feedback, from regular and non-regular employees, related to all compliance matters in the Group, including human rights and harassment. When any problem related to human rights is identified through the services, the Legal Affairs Department, Human Resources Department, and other relevant departments work together to address the problem and prevent future incidents. In fiscal 2022, 13 inquiries including harassment allegations were received and appropriately handled with information from the consultations.
A Supplier Compliance Hotline, which can be accessed anonymously, has also been set up. Whistleblowing reports including human rights issues are filed by the relevant department of GLORY LTD., which is independent of Glory's subject procurement department. No such reports were received in fiscal 2022.
Response to Risks Related to Human Rights
The Glory Group stipulates rules on respect for human rights, such as the prohibition of child labor and forced labor, the payment of appropriate wages, and restrictions on working hours in the Glory Supplier Code of Conduct, which was formulated in March 2014 and revised in April 2018 to ensure respect for human rights throughout the supply chain and promote initiatives for compliance with business partners.
The Glory group cooperates with its suppliers to promotes sustainable procurement. In addition to thorough compliance with the Glory Supplier Code of Conduct and the Green Procurement Standard, we ask our suppliers to conclude a purchasing memorandum, which requires annual submission of the "self-inspection checklist". The checklist confirms suppliers' efforts in the areas of human rights, work environment, fair trading etc. and encourages consistent improvement in their sustainability initiatives.
In addition, Glory Global Solutions (International) Ltd. discloses a statement on initiatives with business partners to prevent forced labor, human trafficking, and other prohibited actions, as resolved by the Board of Directors and in compliance with the UK government's Modern Slavery Act 2015.
In fiscal 2022, no cases of child labor or forced labor were identified.
Initiatives for Raising Awareness of Human Rights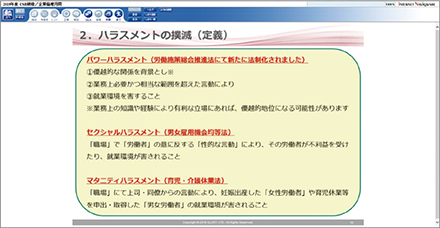 Glory is striving to raise employee awareness of human rights, such as the prohibition of discrimination and prevention of harassment.
In fiscal 2022, we focused on training to eradicate harassment for newly appointed managers and through an e-learning program for all domestic Group employees (99.5% attendance).