Glory respects every employee as an individual and strives to create an enriching, pleasant working environment.
Promoting Diversity
Glory aims to build a workplace where every employee, regardless of nationality, race, religion, gender, age, or disability, can utilize their talents to the fullest.
Equal Opportunities for Women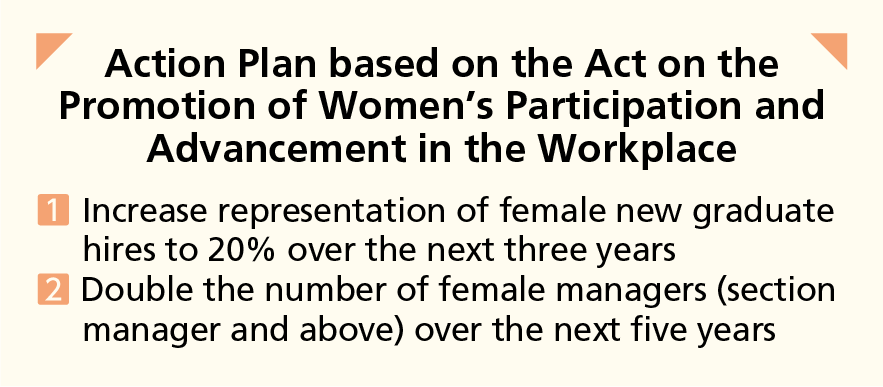 Since fiscal year 2011, Glory has been focusing on ensuring gender equality and delivering equal opportunities for female employees. The many efforts being implemented include steps for establishing a more worker-friendly workplace environment for all employees, including women, and awareness-raising activities for managers and female employees to change the corporate culture. In fiscal 2016, Glory formulated an action plan based on Japan's Act on the Promotion of Women's Participation and Advancement in the Workplace and has been creating a more inclusive workplace while ensuring a higher representation of women.
In fiscal year 2018, 13.1% of the new graduate hires were female and the number of female managers was 16.
Ratio of Female New Graduate Hires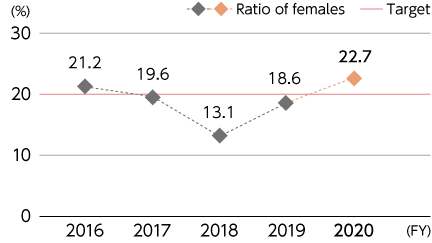 Number of Female Managers
| FY | 2016 | 2017 | 2018 | Target |
| --- | --- | --- | --- | --- |
| Number of female managers | 11 | 15 | 16 | 22 |
Employing People with Disabilities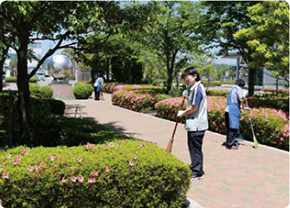 In 1999, GLORY Friendly Co., Ltd. was established to give people with disabilities an opportunity to make a living and contribute to society.
Under the slogan "Foster a creative working environment by valuing communication with one another and fully demonstrating our skills," employees take on tasks such as company janitorial work and landscaping, in-house documentation and mail delivery, and waste disposal. In addition, we are also focusing on expanding work areas so that each employee's personality and ability can be maximized.
As of the end of fiscal year 2018, the ratio of employees with disabilities was 2.23%.
Number and Ratio of Employees with disabilities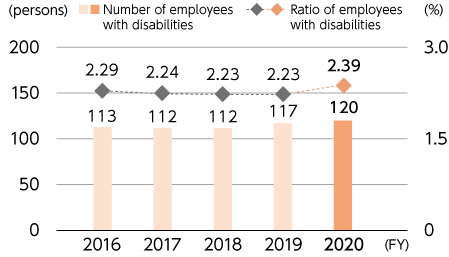 Re-hiring Elderly Workers
Glory has established standards for employment extension in accordance with the Act on Stabilization of Employment of Elderly Persons. Those who have reached the retirement age of 60 are now able to choose to extend their employment until 65. The system encourages senior employees to remain active in the workforce and ensures that their knowledge and experience are effectively leveraged.
In fiscal year 2018, 47 out of 50 employees who had reached retirement age were re-employed under the system.
Work-Life Balance
Glory has in place numerous initiatives for promoting a work-life balance. These initiatives enable employees to match their job and work schedule to their lifestyle while maximizing their abilities and career potential.
Supporting Flexible Work Styles
Glory introduced an annual leave system in fiscal year 2018 that allows employees to take leave in one-hour increments. It is now possible for employees to take their leave in a full-day, half-day or one-hour units, enabling the support of more flexible work styles that more closely suit their lifestyle and encourages them to actually take their annual leave.
In addition, Glory seeks to leverage teleworking, and in fiscal year 2019 introduced a work-at-home program for office workers. A program for mobile workers is also under development, while steps are being taken to define rules to ensure smooth operations and establish the necessary framework. Glory is continuously working on improving the flexibility of its working environment to prevent confining employees to any specific location or time.
Ratio of days taken paid leave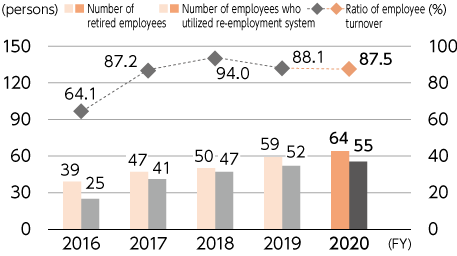 Work-Life Balance Support Systems
Balancing Work and Parenthood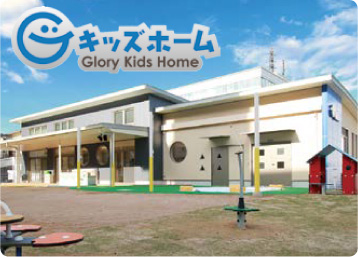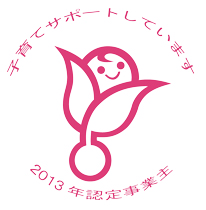 Employees can take advantage of systems that allow them to place equal importance on raising children and carrying out their jobs.
Glory opened an in-house daycare center called "G Kids Home" for children of full-time Glory employees. The center caters for children aged from 57 days up to the age at which they enter elementary school. In addition, the company has provided subsidies for parents working full-time at Glory sites and have children who are in the third grade of elementary school, other than the head office, to hire childcare services.
Moreover, the shortened working hours system has been enhanced to include expanding eligibility so that working parents can take advantage of the system until the end of their child's third grade in elementary school and making it more flexible by allowing short-term use or re-application. These measures allow employees to both develop their careers and raise children.
We received the Next-Generation Certification Mark, known as the "Kurumin" mark, from the Minister of Health, Labour and Welfare in fiscal year 2013 in recognition of our policies based on the Act on Advancement of Measures to Support Raising Next-Generation Children.
Number of Employees Taking Childcare Leave and Ratio of employees Who Returned to Work after Taking Childcare Leave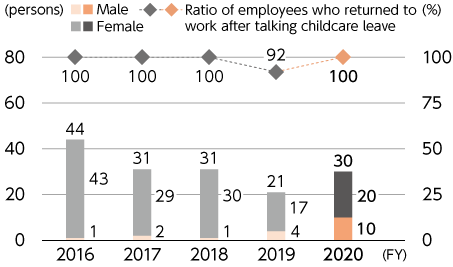 Balancing Work and Caregiving
Glory has established a nursing care leave system under which employees are entitled to up to 365 days of leave per family member as well as a shortened working hour system for nursing care of up to three years.
In addition, it has put in place a system that allows employees to accumulate unused annual paid leave that would otherwise expire after two years of receiving and use it for nursing care or personal sickness and injury. These revisions help employees balance work time with time spent caring for sick or elderly family members.
Reducing Long Work Hours
Glory strives to modify work processes and schedules in order to prevent routinely working long hours. This helps to bolster employee mental and physical well-being and maintain their motivation to work.
In an effort to impress upon employees the importance of working efficiently so as to avoid overtime, Glory has instituted "no-overtime days" and "no-overtime weeks." To encourage employees to go home on time, the company has also limited the number of overtime hours they can work each day. Face-to-face consultations with the company industrial physician are carried out for employees who routinely work long hours to prevent health problems from overworking.
Fostering Human Resources
With the belief that Glory's growth is integrally connected with the growth of each employee, we conduct programs to develop their capabilities and foster diverse human resources.
Fostering Globally Minded Human Resources
Today, overseas sales account for approximately 43.8% of Glory Group consolidated net sales, and overseas employees account for approximately 40% of all Group employees (as of the end of fiscal year 2018). Given this, the company is particularly emphasizing the fostering of human resources that can support international expansion. It is bringing this objective about through programs such as the short-term overseas study program and the Manager Training for Production Headquarters' Overseas Group Companies.
Glory also provides as many opportunities as possible for exchanges between employees in Japan and those at overseas subsidiaries.
Short-Term Overseas Study Program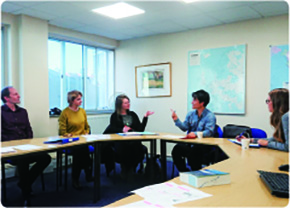 The company has set up a short-term overseas study program, which sends participants to language schools in the U.S. or U.K. for three months so they can acquire the language and business skills needed to do business on the global stage.
By encountering diverse ways of thinking, values, and cultures, employees improve their language skills and develop a global perspective. In fiscal year 2018, five employees took part in this program.
Manager Training for Production Headquarters' Overseas Group Companies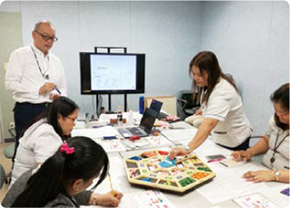 As part of the company's efforts to go global, Glory's Production Headquarters conducted training for managers at two subsidiaries: GLORY Denshi Kogyo (Suzhou) Ltd. and GLORY (PHILIPPINES), INC. The training focused on advancing the self-sustaining capabilities of subsidiaries.
Three employees participated in the training in fiscal year 2018. During the seven-week sessions, they studied management, learned Japanese technology and know-how, and took part in a program aimed at reinforcing risk management at the production site. They also toured Glory headquarters and Group companies in Japan to deepen their understanding of Japanese production systems.
Developing Candidates for Future Executives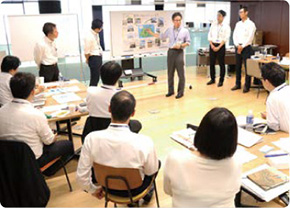 Glory has implemented the "Glory Business College" training program, targeting management-level employees with the goal of developing candidates for next-generation executives.
The seven training sessions and external seminars over a seven-month period aims to give participants the skills and knowledge they need to take on executive positions. The program also provides participants with opportunities to network with internal and external contacts from various backgrounds. In fiscal year 2018, 16 employees participated in this program.
New Career-Building Initiatives
Glory helps employees achieve their personal career plans by providing systems and programs that support the development of their capabilities and further their careers.
Employee Awareness Surveys
Glory conducts a survey targeting executive officers and employees on topics such as work motivation, awareness of compliance, and understanding and implementation of Glory's CSR and management plans. Survey results are distributed to each department so they can each work on improving employee satisfaction in their respective areas. The survey is conducted every three years to help monitor any changes in employee satisfaction to identify emerging issues and come up with effective countermeasures.
Career interviews
We introduced a human resources database system to clarify the knowledge and skills acquired through employee business activities. Career interviews are conducted between supervisors and subordinates based on this data, making it easier to delineate the direction of the employees' careers. We ultimately strive to foster self-directed personnel who envision their own career paths and to establish a workplace in which every employee can utilize their talents to the fullest.
Career Training
Glory holds level-specific career training for employees. For example, the Self-Inquiry Adventure Training is held for employees when they first join Glory, on their fourth year at the company, and when they turn 30 years old. This program allows them to envision a career plan and to grow into competent personnel who can achieve their career goals. In fiscal year 2018, a total of 216 employees took part.
The company also offers other career training such as the Life-Career Plan Training for employees over the age of 50, which gives participants the opportunity to reflect on their careers to date, their experiences, skills, and strengths and to think about the rest of their career before retirement.
Job posting system
Glory established a Job posting system that supports employees in directing their own career development. Under the system, divisions seeking new talent post available jobs, and employees who desire the position are free to apply. We encourage voluntary career development by our employees to invigorate our corporate culture and boost motivation.
Career Consultation
Glory sets up a consultation service to offer advice to employees on their career plans and skill development. Employees can consult via e-mail or phone or meet with a counselor. The service is intended to provide career support while taking into account each employee's unique personal perspective.
Labor Practices
Glory strives to conduct fair personnel evaluations based on employee capabilities and achievements and to establish sound labor-management relationships toward enriching the work environment.
Fair Evaluation and Treatment
To help the growth of both the company and its employees, and to help clarify the roles and responsibilities of each employee, Glory has in place a "management by objective" system.
Under the system, employees meet with their supervisors semi-annually to evaluate progress against goals they defined at the beginning of each fiscal year and receive feedback.
Our Personnel System Guidebook concerning the Evaluation/Treatment/Remuneration System is made available to all employees, with the results of evaluations also disclosed to employees individually, thus increasing fairness, transparency, and credibility.
Sound Labor-Management Relationship
With the belief that maintaining a peaceful labor-management relationship leads to healthy business development, Glory meets regularly with its labor union to discuss issues such as improved working conditions and working hours management. Through this open dialogue, it maintains and reinforces a healthy relationship between labor and management, encouraging both parties to grow together in harmony.
Occupational Health and Safety
Glory encourages the creation of a safe, secure, and comfortable workplace environment to maintain and improve the mental and physical well-being of employees based on the Health and Safety First concept.
Structure for Managing Health and Safety
To maintain and reinforce the structure for managing health and safety, Glory established the Central Health and Safety Committee, convened annually, to be responsible for creating annual and mid- to long-term company-level activity plans related to health and safety as well as Health and Safety Committees at each business site for creating their own respective activity plans.
Each committee meets monthly to discuss health-promoting activities, occupational accidents, including root causes, and
countermeasures. The committees also provide a forum for sharing information. Committee members include the safety operation manager, fire prevention manager, and other managers who deal with health and safety. As a result, the committees' activities cover a wide range of topics.
An Occupational Health and Safety System based on OHSAS18001 is in place at head office. Under the system, we pursue safety efforts based on health and safety management standards at the departmental level and work to prevent disasters through risk assessment.
Framework for Managing Health and Safety

Promoting Health Management
Health Management Declaration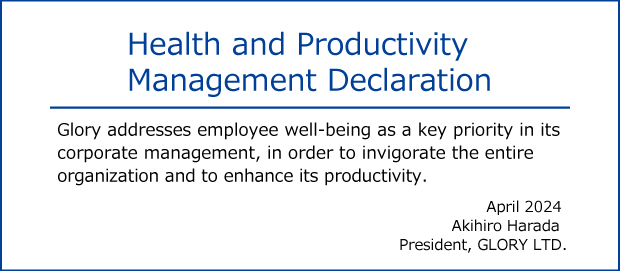 Our Basic Health and Safety Policy
● Visualization of Health Condition
We encourage every single one of our employees to be conscious of the importance of their own health by providing them with tools to enable health support. To collect and visualize their health status can also help us to realize and analyze problems and challenges we currently face, and to decide how to tackle them.
● Encouraging Healthy Habits
We provide our employees with in-house seminars and events promoting healthy habits, such as adequate exercise, ideal dietary habits, and better work-life balance, in order to improve their mental/physical wellbeing.
● Creating A Healthy and Safe Workplace
We study motives for existing "Presenteeism" to achieve a more comfortable workplace with a lower risk of mental/physical illness, so that productivity can be improved.
Glory maintains and reinforces employee health by ensuring they receive standard medical checkups annually and, for those who are applicable, special semi-annual medical checkups. Industrial physicians and health nurses provide a follow-up based on the results of the checkups through, for example, face-to-face consultations.
As measures to prevent mental health issues, the company established the internal Mental Health Counseling Center, which is staffed by three counsellors and conducts awareness-raising activities on mental health. The group also offers stress checks to all employees, with 81.8% taking them in fiscal year 2018. The results are analyzed and necessary follow-up actions are taken which include offering face-to-face counseling with doctors and counsellors to employees identified as suffering from high stress while analyzing their organizational structure and proposing improvements to their working conditions.
Respecting Human Rights
All employees must abide by Glory's Corporate Action Guidelines. These stipulate rules on respect for individuals, talent development, and workplace safety. They also clearly call for respect for other employees' diversity, personalities, individual differences, and—above all—human rights. To ensure that these efforts extend throughout the entire supply chain, the company published the Glory CSR Procurement Guidebook for suppliers in Japan and the Glory Supplier Code of Conduct for overseas suppliers. These documents outline rules on respect for human rights that all suppliers are urged to follow.
The Glory Group has signed and participates in the United Nations Global Compact, which advocates universal principles covering the four areas of human rights, labor, the environment, and anti-corruption. The Group will continue to ensure respect for human rights as a cornerstone of its management.