Glory harmonizes and advances the interests of the company and society by actively conducting social action programs as a good corporate citizen.
Fostering the Next Generation
GLORY Foundation for Elementary School Students
In March 1995, Glory established the GLORY Foundation for Elementary School Students to support the sound development of young people. Through the foundation, the company conducts sports, arts, and cultural activities that include hands-on science classes, experience-based classes for parents and children, and a children's theater. A cumulative total of 106,000 people have taken part in these activities since the foundation was launched.
The foundation also assists organizations that work toward the sound development of elementary school students through activities in sports, science, and culture.
Hands-on Science Classes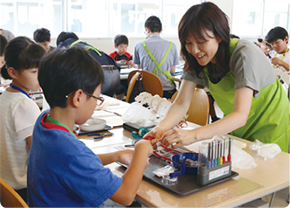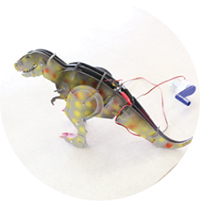 In hands-on science classes during the summer holidays, elementary school students build their own science projects, experiencing at first hand the wonders of science while also cultivating their creativity and unique powers of imagination. Glory employees take part by helping the students with their projects.
In the fiscal year 2019, science classes consisting of 200 students from grades three to six took on the challenge of building dinosaur mechas powered by windup springs and learned about the principle of electromagnetic induction.
Children's Theater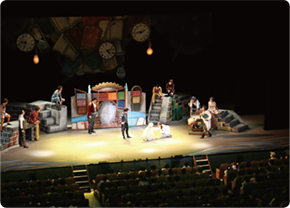 The Children's Theater project is held with the goal of enriching the aesthetic sensibilities of young people and planting in them the seeds of creativity.
In fiscal year 2019, a total of 3,200 elementary school students and their parents were invited to performances of the musical The Story of a Seagull and the Cat Who Taught Her to Fly by the Shiki Theatre Company.
Hands-on Classes for Parents and Children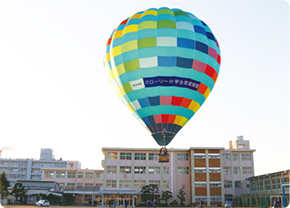 This program is held every spring and autumn with the goal of strengthening the bonds between parents and children through a range of fun and exciting experiences.
In fiscal year 2019, a total of 80 children and parents participated in the spring sessions of Hands-on Classes for Parents and Children and the Watch and Stage Seminar for the musical The Little Mermaid by the Shiki Theatre Company in the Osaka Shiki Theatre. In November of that year, 300 students and their parents were invited to view a hot air balloon at a local elementary school. Participants learned how hot air balloons work and took turns boarding one anchored at the school.
Supporting the Promotion of Sports
Glory Sponsors the Victorina Himeji Volleyball Team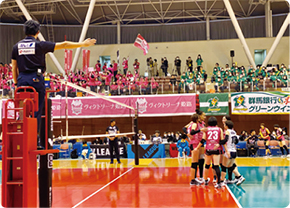 Glory has signed a sponsorship agreement with Himeji Victorina Co., Ltd., which manages the Victorina Himeji women's volleyball team (director and owner Masayoshi Manabe and director and vice-president Yoshie Takeshita). Based in Himeji, Hyogo, Victorina Himeji is Japan's first professional women's volleyball team.
Besides playing in a V1 league, the team promotes the sport in the community through activities that include appearances on talk shows and volleyball clinics for elementary and junior high school students. Glory strives to use sponsorship as a way to stimulate communitylevel sports and support the development of the next generation.
We expect the team to make another great leap forward in the V1 League and will continue to support them in their endeavors.
Other Contributions to Society
Donated Ticket Vending Machines to Himeji City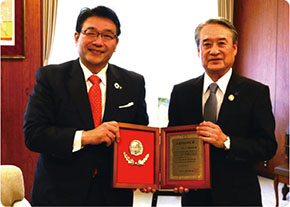 Glory donated to Himeji City four ticket vending machines with touch screens to be set up at the entrance of the World Heritage Himeji Castle. The machines will enable users to select from six different languages, choose audio guidance and handle cashless payments. In recognition of our contribution to improving the welcoming environment for castle visitors and for increasing the efficiency of its operations, we received an appreciation plaque and the Furusato(home) Himeji Award in March 2020.
Participating in the TABLE FOR TWO (TFT) Program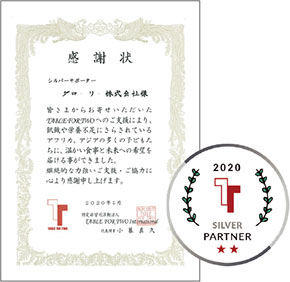 Glory has been participating in the TFT program and contributes a portion of the proceeds from meals sold in the cafeteria of the company headquarters to provide school meals in developing countries. In fiscal year 2019, 18,534 meals were donated, for an accumulated total of 129,414 donated. Glory has been certified as a "Silver Partner" of TABLE FOR TWO International and received a letter of appreciation for its support during 2019.
Educational Support Activities in America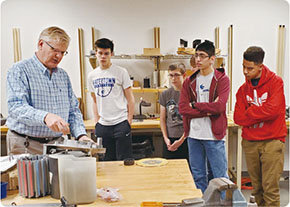 Glory Global Solutions Inc. regularly invites local senior high school students who are studying mechanical engineering to a workplace experience event, which includes a tour of our development sites and a lecture about the company, to broaden their understanding of our business. Employees share their knowledge and experience with students while supporting projects that the participants are working on as a way of contributing to their education related to their future careers.
Participating in the Employment Assistance Program for Students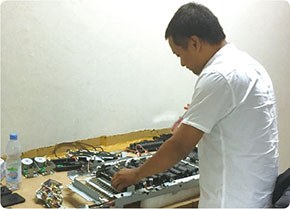 PT. Glory Global Solutions Indonesia are involved in the employment assistance program for students, run by the Indonesian government, and participated in its activities with our client Bank Central Asia (BCA). The purpose of the program is to provide students with useful workrelated knowledge and skills. One activity involved the use of a secondhand banknote sorter donated by BCA and dummy banknotes, with accompanying explanations about the mechanism and a basic description of how the product works.
Protecting the Marine Environment in the Philippines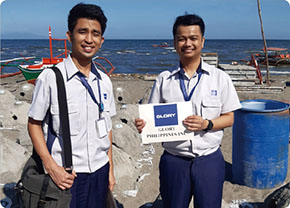 In October 2019, GLORY (PHILIPPINES), INC. donated "reef buds" as its contribution to an ocean regeneration project in the municipality of Rosario in the province of Cavite. This artificial coral is made from low-impact material and provides a habitat for sea organisms. Reef buds also contribute to the stabilization of the ocean's pH balance, helping to prevent degradation of the marine environment caused by increasing atmospheric CO2 concentrations.
Donated Banknote Sorters to a Charity Bazaar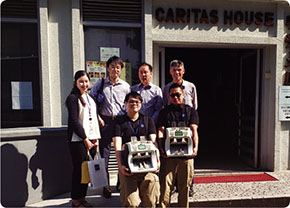 Glory Global Solutions (Hong Kong) Ltd. donated two banknote sorters for counting the proceeds from a charity bazaar, which was held in Hong Kong to provide rescue and rehabilitation services for those living in poverty. Approximately 200 shops participated in selling sweets and craftwork. About 12,000 Glory employees volunteered for the event, with proceeds donated to a charitable organization.