Glory harmonizes and advances the interests of the company and society by actively conducting social action programs as a good corporate citizen.
Fostering the Next Generation
GLORY Foundation for Elementary School Students
In March 1995, Glory established the GLORY Foundation for Elementary School Students to support the sound development of young people. Through the foundation, the company conducts sports, arts, and cultural activities that include hands-on science classes, experience-based classes for parents and children, and a children's theater. A cumulative total of 106,000 people have taken part in these activities since the foundation was launched.
The foundation also assists organizations that work toward the sound development of elementary school students through activities in sports, science, and culture.
Hands-on Science Classes
In hands-on science classes during the summer holidays, elementary school students build their own science projects, experiencing at first hand the wonders of science while also cultivating their creativity and unique powers of imagination. Glory employees take part by helping the students with their projects.
In fiscal 2021, this events were held on-line with 300 elememtary students.
Children's Theater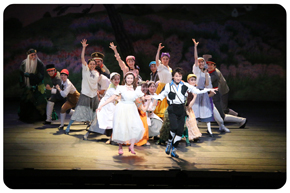 The Children's Theater project is held with the goal of enriching the aesthetic sensibilities of young people and planting in them the seeds of creativity.
In fiscal 2021, we invited 2,000 elementary school students and their parents.
Hands-on Classes for Parents and Children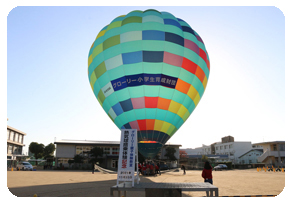 This program is held every spring and autumn with the goal of strengthening the bonds between parents and children through a range of fun and exciting experiences.
In fiscal 2021, we invited 200 elementary school students and their parents.
Supporting the Promotion of Sports
Glory Sponsors the Victorina Himeji Volleyball Team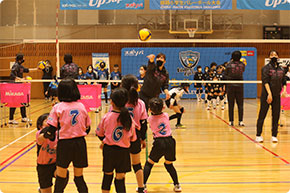 Glory has signed a sponsorship agreement with Himeji Victorina Co., Ltd., which manages the Victorina Himeji women's volleyball team (director and owner Masayoshi Manabe and director and vice-president Yoshie Takeshita). Based in Himeji, Hyogo, Victorina Himeji is Japan's first professional women's volleyball team.
Besides playing in a V1 league, the team promotes the sport in the community through activities that include appearances on talk shows and volleyball clinics for elementary and junior high school students. Glory strives to use sponsorship as a way to stimulate communitylevel sports and support the development of the next generation.
We expect the team to make another great leap forward in the V1 League and will continue to support them in their endeavors.
Other Contributions to Society
Watertown High School Career Fair (US)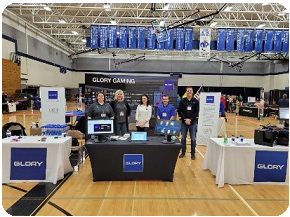 In March 2022, Glory exhibited at the local Watertown High School career fair this year. Students from Freshman to Senior years visited the school's gymnasium to meet with local businesses and colleges. For Glory, this was an opportunity to showcase what Glory does, build awareness within the community and encourage local youth to consider the company for work placements or a longer-term career. Some Glory CI and Acrelec Kiosk products were on display to demonstrate what we build and students also had a chance to use their assembly, instruction following, critical thinking and troubleshooting skills to compete against each other in a Lego build competition. Many in attendance said that Glory's booth was "the fun booth" with the amount of interaction that the Glory team encouraged from participants. Nearly 60 students expressed interest in working at Glory over the summer.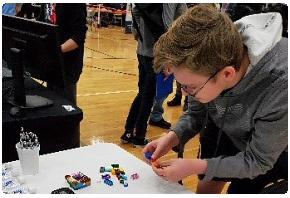 Local Community and Watertown SkillsUSA Chapter Food Drive (US)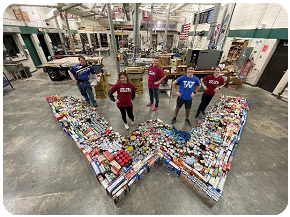 In April 2022, Glory participated with other local businesses in the Watertown area to collect non-perishable food items to support a drive for the local community's Food Pantry food bank organized by the local chapter of SkillsUSA. SkillsUSA is a partnership of students, teachers and industry working together to ensure America has a skilled workforce. It helps students excel by providing educational programs, events and competitions that support career and technical education in the nation's classrooms. The food drive was an example where local business were encouraged to get involved by the chapter and where Glory staff were only too happy to contribute. An element of competition was added as local businesses competed to provide the largest number of items. Glory tied for 3rd place in largest donations against dozens of other Watertown businesses that participated.
Hong Kong and Macau teams Box of Hope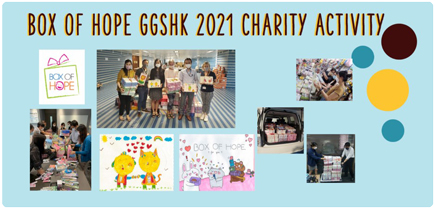 Ahead of Christmas, Glory staff supported Hong Kong charity Box of Hope in their annual drive to provide gifts to children in need. From a cross-departmental committee, efforts were coordinated to source shoeboxes from local businesses that could be filled with a mixture of gifts, sanitary items and stationery that would give children something to look forward to opening during the festive period. Staff were keen to get involved in contributing items, filling and wrapping while many also encouraged young family members to participate in decorating the box lids. Gift boxes in this appeal were distributed across Hong Kong, Vietnam, Cambodia and the Philippines.
Festive fundraising in India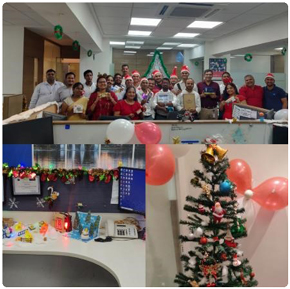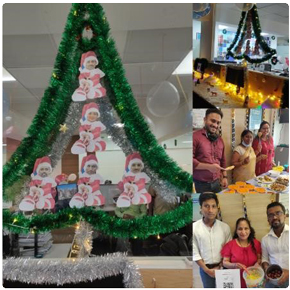 Indian staff raised funds for a local charity by bringing in home-cooked food for colleagues to buy in their Food Fest for a cause event. This was part of their annual Christmas festivities and ensured the team made the celebrations memorable. Other activities included desk decorating and Secret Santa gift exchange – activities that are fast becoming traditions for many Glory offices across the globe.
Australia's Biggest Morning Tea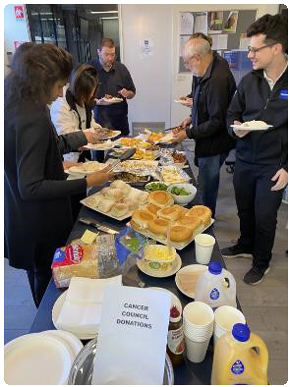 The Sydney based team were proud to participate in Australia's Biggest Morning Tea in May with every dollar raised helping support those impacted by cancer.