Maintenance
Achieving Stable Product Operation through Preventative Maintenance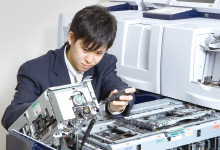 The GLORY Group operates around 100 after‐sales service sites throughout Japan, so in the event of a problem our technical staff can respond promptly and accurately.
We also conduct Preventative Maintenance Activities for regular inspections so customers are able to use products with confidence. Product data logs are analyzed and parts showing signs of a possible future failure are adjusted or replaced. Inspections that help to emphasize the particular characteristics of the customer's operation are also set up separately which can prevent product malfunction. Examples of past malfunctions are analyzed and used as feedback in product development, to reduce product downtime.
We also work to improve technical staff skills through inspection training and repair know-how classes, to conduct surefire preventative maintenance. We aim to reduce any inconvenience to customers by ensuring that our technical staff has a deep knowledge of the product used by each customer enabling them to provide demonstrations of the product operation when visiting customer site.
We will continue to provide preventative maintenance that exceeds customer expectations, offering features and improvements from the customer's perspective, constantly striving to ensure we remain aware of the ongoing challenge of realizing value and taking customer requirements into consideration.