Glory communicates with stakeholders and appropriately discloses information.
Policies Concerning Disclosure of Information and Constructive Dialogues
Glory is committed to "communicating with stakeholders and striving for appropriate information disclosure," as declared in its Corporate Action Guidelines. With this stance, the company is dedicated to increasing the transparency of its management through quick, accurate, and fair provision of the latest corporate information and to gaining a better understanding of its management policies and business activities through constructive dialogues, thereby building long-term relationships of trust with shareholders and investors.
General Meeting of Shareholders
Glory recognizes the vital importance of opportunities for dialogue with shareholders and endeavors to enliven the General Meeting of Shareholders.
We distribute convocation notices three weeks before the meetings to enable shareholders to have sufficient time to review proposals addressed at the General Meeting of Shareholders. Furthermore, convocation notices are posted on Tokyo Stock Exchange and Glory websites at least four weeks in advance. We have been exercising ingenuity every year in preparing clear and informative convocation notices with suitable photos and graphic charts. We also adopted electronic voting to facilitate shareholder participation in resolutions.
At the General Meeting of Shareholders, audio-visual presentations and narratives are used by the president to provide detailed reports on proposals to be acted upon along with key considerations for shareholders. During the Showroom Tour, conducted after the meeting, where our main products are displayed, executive officers including the president and staff members actively encourage communication with shareholders by explaining about Glory products and history. Furthermore, in fiscal 2021 and fiscal 2022 the Showroom Tours conducted after the meeting were canceled, with the aim of preventing the spread of COVID-19. We will determine whether to hold these in future years in accordance with the status of the pandemic.
Dialogue with Shareholders and Investors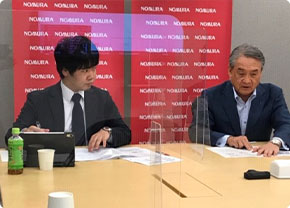 Glory proactively arranges opportunities for dialogue with shareholders and investors to deepen their understanding of the company.
At meetings with institutional investors and analysts, we actively engage in dialogue on various topics, including shareholder returns and capital policies, as well as our management strategy, business models, and medium to long-term management plan.
In terms of information disclosure, we voluntarily hold financial results briefings and conference calls and include supplementary explanation to further clarify performance by segment and by area. We also extend invitations to IR events such as factory tours and exhibitions so participants can see our work themselves and gain a clearer understanding of our management strategy and business operations. In fiscal 2020, these were canceled due to the spread of COVID-19. We plan to hold these in the future depending on the status of the pandemic.
In addition, we co-host briefings with securities companies to provide individual shareholders and investors with a clear description of our business activities and communicate additional information through shareholder newsletters and our corporate website.
Main Dialogue with Shareholders and Investors (FY2021)
| | |
| --- | --- |
| Attendees at the 75th Ordinary General Meeting of Shareholders | 56 |
| Meetings with institutional investors and analysts | Involving total 216 companies |
| Attendees at briefings for individual investors | 118 |
Information Disclosure on Website
A special section for shareholders and investors has been set up on the Glory corporate website to ensure timely and more convenient information disclosure. Documents disclosed include quarterly financial reports, shareholder newsletters, and Integrated reports. We want our website to be easy to understand and user-friendly with enhanced content.