We will provide products and services in a timely manner to win the confidence and satisfaction of customers.
Three Priority Guidelines
1. By sensing advanced market needs, develop products that are attractive to customers.
2. Establish the quality of products at the earliest stage possible.
3. Place importance on the customers' first impression of quality and on after-sales services.
To achieve the above, our company will satisfy the requirements of laws and regulations and customers' requirements, and continually improve the effectiveness of the quality management system.
All our business sites and regional offices in Japan have acquired ISO 9001 international standard certification.
We formulate the annual quality control policy under the Basic Policy for Management and Quality Policy. Under each year's policy, we work to improve our quality assurance system as well as the quality of our products and services to earn customer trust.
Furthermore, we disseminate the annual quality control policy across departments, review the status of the implementation, and horizontally share information on quality problems and counter measures across departments through the establishment of the Quality Control Committee and a management review. Through these efforts, we work together to conduct quality control activities aligned with our business by applying PDCA cycles.
With regard to our product quality management system, the Quality Assurance Department is responsible for quality assurance from development through to the shipping of products, while the Maintenance Department handles the quality control of all post-shipping maintenance services.We also established the Quality Control Department for overall quality control, and we continue to improve our entire internal quality management system.
To prevent recurrence of quality issues, we hold product safety meetings, attended by representatives from the related departments, to periodically evaluate the effectiveness of measures conducted through examination and discussion as well as standardization.
Quality Management System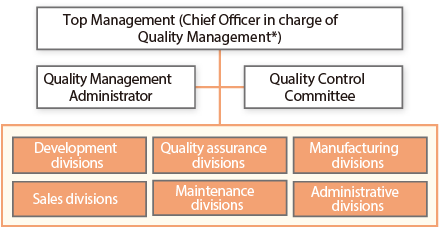 *Chief officer of the quality management system, entrusted by the president with all authority and responsibility to promote and maintain the quality management system.
Executing Consistent Quality Control
All Glory departments, from planning and development through maintenance, closely collaborate with each other and work to create products that satisfy the diverse needs of customers by conducting product and technical development from the client's perspective.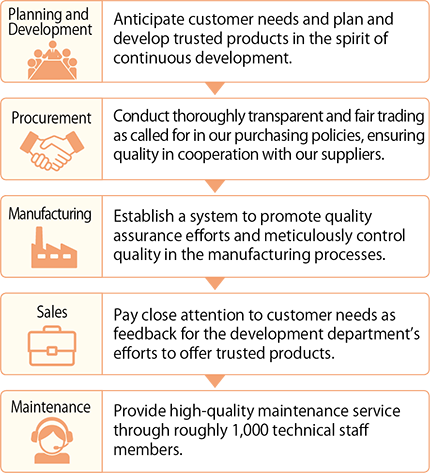 Quality Assurance at the Planning and Development Stage
Subscribing to the general belief that 70% to 80% of product quality is determined at the planning and development stage, which sets the standard for all subsequent stages, Glory focuses continuous improvement from that point. Quality confirmation is then executed at every stage throughout manufacturing and shipping and by conducting design reviews and evaluation tests. In addition, the Quality Assurance Department conducts product safety reviews to confirm that no safety issues have emerged and ensures that our quality and safety controls are thorough and comprehensive.
As a provider of products and services in over 100 countries around the world, Glory endeavors to enhance quality assurance from the development of quality control standards to the implementation of intensive staff training in order to develop products that comply with the respective regulations, laws, and standards of each country.
Developing Human Resources who Support Quality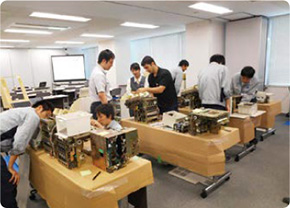 We emphasize education and training to improve the technical skills of designers as part of our efforts to develop high-quality products. For instance, we conduct level-based training programs and enhanced training for young designers to develop and improve their fundamental design competencies and quickly acquire skills.
We also hold technical presentations to promote horizontal deployment of technologies, learn market characteristics, and improve the technical skills of designers. Each department shares its top technological achievements towards improving the speed of delivering products with reliable quality to customers.
Information Provision and Product Labeling
We focus on providing adequate information on products to enable safe customer use.
We have established guidelines for product information displays, labeling, and user manuals so customers can safely and efficiently use and maintain our products. Our guidelines stipulate type styles, writing styles, and other information to prevent misunderstanding or misreading. In addition, text is accompanied by illustrations and photos for greater clarity. Safety explanations in user manuals are provided in multiple languages so that customers around the world can use our products worry-free.
To prevent product failures from deterioration associated with long-term use, we attach precaution labels to items such as coin and banknote recyclers for tellers and banknote changers. The information is also posted on our website.
Illustration used as an explanatory tool

User manual with photos that make operation easy to understand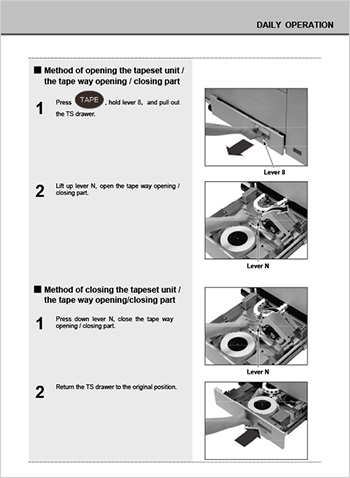 Efforts to Improve Maintenance Quality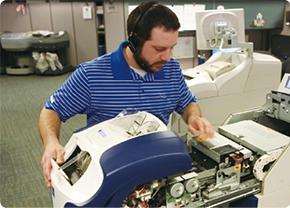 We pay close attention to post-shipping quality control to ensure that customers can confidently use our products, which are repaired and inspected by our technical staff.
Members of our technical staff constantly improve their technical skills and response capability to provide customers with fast, reliable maintenance service. In Japan, they attend group maintenance training and engage in self-study e-learning classes to acquire basic knowledge and practical skills. Follow-up courses are provided as needed after the initial training to ensure technical staff can maintain and enhance their skill levels. At overseas sites, we conduct group skill training by region or country. The staff responsible for each product model train technical staff in the products being offered in their market. Glory is strengthening the effectiveness of the training by having participants undergo preparatory study via an online education system ahead of the training day.
Maintenance managers from each region of the world meet to share their initiatives and success stories regarding their respective maintenance work and summarize their progress in actions underway on a global scale. In order to provide maintenance services that meet the diverse needs of customers, Glory will improve maintenance quality across the entire Glory Group and raise the level of performance at each of these operations.