Notice regarding Acquisition of Shares of Clip Money Inc., Canada
GLORY LTD. (the "Company") hereby announces the acquisition of shares of Clip Money Inc. ("Clip Money"), a Canadian company, which provides deposit services for retailers and restaurants (merchant deposit service) in Canada and the United States.
1. Purpose of the acquisition
While a majority of retailers worldwide deposit their sales proceeds over the counter at financial institutions or through a night safe, these methods are gradually becoming less accessible with the global trend of bank branch closures.
For the operational efficiency and convenience of retailers, Clip Money has developed a service that allows deposit to multiple financial institutions through shared devices installed in facilities such as supermarkets and shopping malls.
The investment in Clip Money represents the latest step in the Company's strategy to offer a comprehensive portfolio of Shared Service Solutions to financial institutions around the world.
The Company has previously invested in the UK's Unified Financial Limited (DBA as "OneBanks Hub"), which provides "shared branch" services that allow multiple financial institutions to offer financial services at a lower cost than through traditional branches.
2. Overview of Clip Money
| | |
| --- | --- |
| (1) Company Name | Clip Money Inc. |
| (2) Location | 333 Bay St #2400, Toronto, ON M5H 2T6 |
| (3) Representative | CEO Joseph Arrage |
| (4) Listed Stock Exchange | Toronto Stock Venture Exchange |
| (5) Principal Business | Merchant deposit service |
| (6) Founded | October 12th, 2018 |
| (7) Website | https://clipmoney.com |
3. Schedule
 (1)Effective date of the share purchase agreement   May 16th, 2022
 (2)Date of purchase of shares            May 16th, 2022
4. Financial impact
 The impact of this transaction on the Company's consolidated financial results is expected to be minimal.
How to Use ClipDrop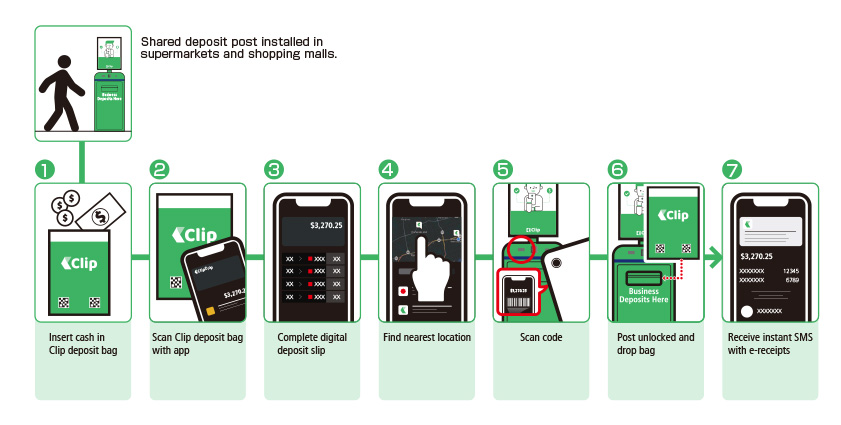 ClipDrop in Use
About GLORY LTD.
GLORY LTD., headquartered in Himeji, Japan, is a pioneer in the development and manufacture of cash handling machines and systems. GLORY provides a variety of products built on its leading-edge recognition/identification and mechatronics technology, such as cash handling machines, cash management systems, vending machines and automatic service equipment. Committed to meet society's wide-ranging needs, GLORY serves the financial, retail, vending machine, amusement and gaming industries in more than 100 countries. For more information about GLORY, please visit GLORY Group website at https://corporate.glory-global.com/.
Contact
GLORY LTD.
Corporate Communications Dept.
Management Strategy Headquarters
TEL: +81-79-297-3131
Information in this document is current on the date of the announcement and subject to change without prior notice.