Release
April 14, 2022
GLORY LTD.
Glory included in the FTSE Blossom Japan Sector Relative Index
Glory announces it has been included in the FTSE Blossom Japan Sector Relative Index.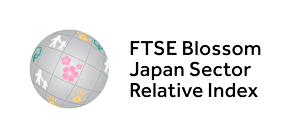 The new FTSE Blossom Japan Sector Relative Index is designed as a sector neutral benchmark that reflects the performance of companies demonstrating strong Environmental, Social and Governance (ESG) practices in Japan.The index selects companies with higher ESG Ratings within the top 50% of each sector and supports climate transition to a low carbon economy by evaluating companies' climate governance and climate change efforts with Transition Pathway Initiative's Management Quality Score.
The Glory Group promotes ESG-oriented business management based on the Sustainability Policy stipulated in its 2023 Medium-Term Management Plan. We continue to contribute to the sustainable development of society through business that helps to address social issues.
About GLORY LTD.
GLORY LTD., headquartered in Himeji, Japan, is a pioneer in the development and manufacture of cash handling machines and systems. GLORY provides a variety of products built on its leading-edge recognition/identification and mechatronics technology, such as cash handling machines, cash management systems, vending machines and automatic service equipment. Committed to meet society's wide-ranging needs, GLORY serves the financial, retail, vending machine, amusement and gaming industries in more than 100 countries. For more information about GLORY, please visit GLORY Group website at https://corporate.glory-global.com/.
Contact
GLORY LTD.
Corporate Communications Dept.
Management Strategy Headquarters
TEL: +81-79-297-3131
Information in this document is current on the date of the announcement and subject to change without prior notice.