Release
March 25, 2019
GLORY LTD.
Glory Cash Recycling System, CI-5 awarded the design prize "Red Dot Design Award 2019"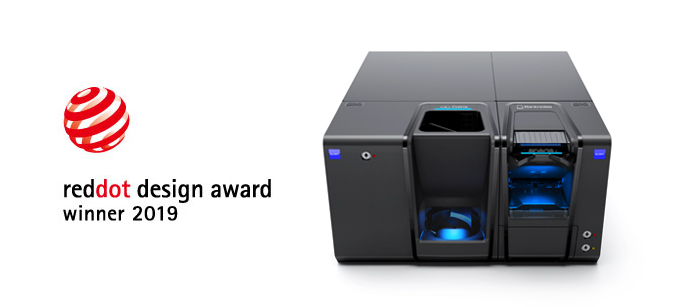 Glory's Cash Recycling System, CI-5 has been awarded in the category of the "product design" of the "Red Dot Design Award 2019", the world's largest design award. Glory's CASHINFINITY™ series (hereafter CI series) were awarded in 2012 and 2018, this is the third award.
The Red Dot Design Award, coordinated by Design Zentrum Nordrhein Westfalen, Germany, is one of the most prestigious international design award contests, which has been running for more than half a century since 1955. The product design category elects outstanding designs from nine criteria such as innovation, quality, ergonomics sustainability and symbolism, targeting designs that were manufactured in the past two years worldwide.
A total of more than 5,500 products from 55 countries entered the contest in 2019.
"CI-5", the smallest cash recycling solution among CI series, can be mainly installed at the counter position in retail stores and linked to a store's Point of Sale system to manage cash transactions. Ergonomically and intuitively designed, the CI-5 is extremely easy to use. The device provides guidance to customers throughout the transaction, with LED indicators to show where to deposit and withdraw cash. Also, the CI-5 exterior design blends seamlessly with its environment and can be installed in a variety of stores. The CI-5 can be utilized in stores where space is limited, to provide an efficient cash handling solution wherever cash transactions take place.
※Note: EUR and USD only

Contact
GLORY LTD.
Corporate Communications Dept.
Management Strategy Headquarters
TEL: +81-79-297-3131
Information in this document is current on the date of the announcement and subject to change without prior notice.