Release
April 23, 2018
GLORY LTD.
Three Glory products for overseas awarded the design prize "Red Dot Design Award 2018"
- Banknote Sorter UW-F series, Banknote Recycler CI-50 series and Banknote Deposit Solution CI-30B -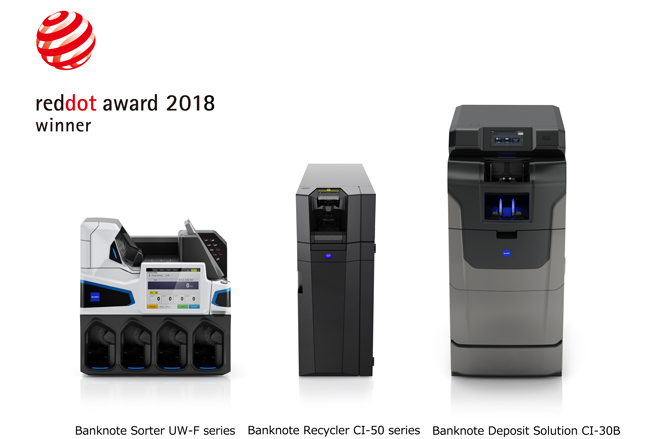 Glory's Banknote Sorter UW-F series, Banknote Recycler CI-50 series and Banknote Deposit Solution CI-30B, have been awarded the "Red Dot Design Award 2018", in the product design category.
The red dot design award contest, coordinated by the Design Zentrum Nordrhein Westfalen, Germany, is one of the most prestigious international design award contests, which has been running for more than half a century since 1955. This is the world's largest design awards, electing outstanding designs from nine criteria such as innovation, functionality, quality, ergonomics, sustainability and symbolism. A total of more than 6,300 products from 59 countries entered the contest in 2018.
These models were designed for overseas, the banknote sorter UW-F can sort a large amount of banknotes in financial institutions and cash centers, and banknote recycler CI-50 and banknote deposit solution CI-30B can manage cash transactions in retail stores and back offices.
Glory will aim to design and develop products that excel functionally and are globally acceptable.
About GLORY LTD.
GLORY LTD., headquartered in Himeji, Japan, is a pioneer in the development and manufacture of money handling machines and systems. Glory provides a variety of products such as money handling machines, cash management systems, vending machines, automatic service equipment, and cash management solutions that are built on its leading-edge recognition/identification and mechatronics technology. Committed to meet society's wide-ranging needs, Glory serves the financial, retail, vending machine, amusement and gaming industries in over 100 countries around the world. Glory employs approximately 9,000 people worldwide. For more information about Glory, please visit Glory's group website at http://corporate.glory-global.com/.
Contact
GLORY LTD.
Corporate Communications Dept.
TEL: +81-79-297-3131
Information in this document is current on the date of the announcement and subject to change without prior notice.