Products
November 6, 2017
GLORY LTD.
Release of a Transportation Service Management Control System
- Strict control management for safe operation -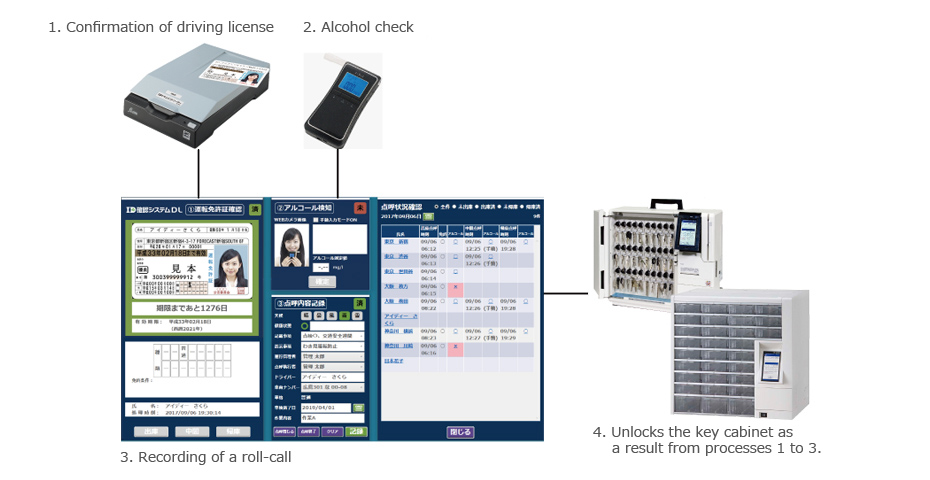 In November 2017, GLORY Ltd. released the Management Control System mainly targeting around 30,000 transporting companies to support their operational duties.
Confirmation of a driver license, alcohol measuring and a physical check of drivers must be conducted by a licensed operation manager under road transport law and an act on service of cargo transportation by automobiles in the transporting industry. The operation manager is required to maintain management based on these conditions. From this circumstance, Glory developed the system for stricter management and labor saving.
This system is a first in the industry to integrate: "the ID Check System DL"*1 which identifies the credibility of a driver license, breath alcohol measuring device*2 and the importance of the machine to manage keys and other important subjects. The system will automatically record results. Additionally, the identity verification service which uses a camera from a smartphone and a facial recognition cloud service which enables an ID confirmation at a remote location will be released in fiscal year 2018.
*1

The ID check system DL is a product of DNP ID System Co., Ltd.

*2

Breath alcohol measuring device from several manufactures can be linked
Confirmation subjects:
Credibility, an expiration date and types of the driver's license are classified and recorded. The ID check system DL reads an IC chip and both sides of license card and send the information to the system. Once the information is registered, the system will certify by placing the card on a card reader.
Breath alcohol measuring
The system is linked with the breath alcohol measuring device and the result is sent
to the system.
Records the result of roll-call completed by the operation manager.
Subjects 1~3 of the recorded information are integrated and a record book is automatically created.
【Optional】
・Link to the key/important subject keeping machine (from January 2018).
 Receiving of keys and ETC cards etc. is automated and rigidly managed.
・Link to the facial recognition cloud service (Fiscal year 2018).
 Registered driver's facial image to the database is recognized by using the facial recognition technology
 to prevent identity theft.
About GLORY LTD.
GLORY LTD., headquartered in Himeji, Japan, is a pioneer in the development and manufacture of money handling machines and systems. GLORY provides a variety of products such as money handling machines, cash management systems, vending machines, automatic service equipment, and cash management solutions that are built on its leading-edge recognition/identification and mechatronics technology. Committed to meet society's wide-ranging needs, GLORY serves the financial, retail, vending machine, amusement and gaming industries in over 100 countries around the world. GLORY employs approximately 9,000 people worldwide. For more information about GLORY, please visit GLORY's group website at http://corporate.glory-global.com/.
Contact
GLORY LTD.
Corporate Communications Dept.
TEL: +81-79-297-3131
Information in this document is current on the date of the announcement and subject to change without prior notice.