A collaboration of a facial recognition cloud service and Pepper enables assisting visitor and notification of visit by a chat system and emails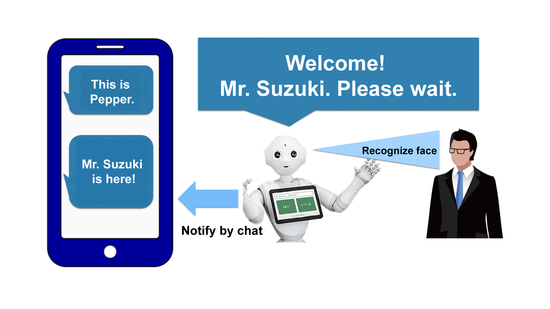 The facial recognition cloud service provided by GLORY was adopted to a software application for robot called "Smart at robo for Pepper" produced by M-SOLUTIONS, Inc.*¹ ("M-SOL")(Shinjyku-ku Tokyo-to, President: Mitsuhiro Sato). It enables Pepper*² to identify the visitor's face and perform a specific movement (hand movement, walking etc.) to correspond various requirement of visitor and notify the arrival of the visitor by a chat and emails immediately.
Our facial recognition technoloy had continued to evolve since its first use in 2003, our current recognition performance has reached high-speed recognition within an average of one second, has a high recognition rate*³ of more than 99% and is maintaining its place at the top in the industry. This service has been adopted in many facilities such as a large-scale commercial facilitiy, a financial institution, an apartment, a hotel and a hospital.
We will continue providing facial recognition cloud services to contribute towards society. Note: Please refer to below website for "Smart at robo for Pepper" and updating.
*¹ M-SOL is registered as Pepper Robo App Partner (Advanced) by Pepper Partners Program
*² Humanoid robotics developed by SoftBank Robotics Corp. and Aldebaran Rbotics SAS
*³ False accetptance rate:0.01%, False rejection rate:0.5%(Self rated by GLORY Ltd.)


Note: A company name, a product name and a service name listed are registered by GLORY LTD. and the companies or the trademark of each group or registered trademarks.
About GLORY LTD.
GLORY LTD., headquartered in Himeji, Japan, is a pioneer in the development and manufacture of money handling machines and systems. GLORY provides a variety of products such as money handling machines, cash management systems, vending machines, automatic service equipment, and cash management solutions that are built on its leading-edge recognition/identification and mechatronics technology. Committed to meet society's wide-ranging needs, GLORY serves the financial, retail, vending machine, amusement and gaming industries in over 100 countries around the world. GLORY employs approximately 9,000 people worldwide. For more information about GLORY, please visit GLORY's group website at http://corporate.glory-global.com/.
Contact
GLORY LTD.
Corporate Communications Dept.
TEL: +81-79-297-3131
Information in this document is current on the date of the announcement and subject to change without prior notice.