First in Japan! Installation of a locker for receiving and shipping baggage in addition to the storage baggage at the stations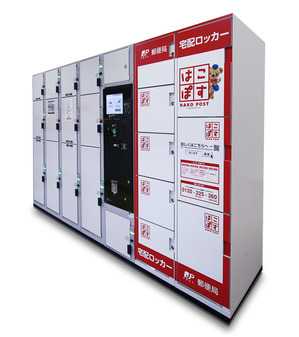 GLORY LTD. has installed the locker for delivery recipients "LEA series" which have been available from March of last year. It is installed for a hybrid operational use that juxtaposed the hand baggage storage locker "LTS series". The installation at the stations is a first in Japan.
Available stations: Kiyose Station of the SEIBU RAILWAY Co.,Ltd. (Tokorozawa-city, Saitama / President Hisashi Wakabayashi) and Sanyo Himeji Station of Sanyo Electric Railway Co., Ltd. (Kobe-city, Hyogo / President Kazuhiro Uekado). The initiation of the locker parcel delivery service is on May 30.
This locker is also available at "HAKO POST"* where Japan Post Holdings (Chiyoda-ku, Tokyo / President Kunio Yokoyama) expands, and can be used for baggage receiving and shipping. Customer convenience for those using the above station will improve.
We shall continue to focus on expanding sales to enable wider development of the locker allowing more people to take advantage of the convenience it brings.
Note: The following services are currently provided.
1. Receipt and shipment of Yu-Packs (parcel) from EC enterpriser which corresponds to "HAKO POST".
2. Receipt of registered mail that could not be delivered during the day due to absence.
(In order to receive registered mail, advanced registration of "Yubin Portal" and "MyPost" is required.
* "HAKO POST" is a service with which users can receive.
https://www.post.japanpost.jp/service/hakopost/index_en.html
About GLORY LTD.
GLORY LTD., headquartered in Himeji, Japan, is a pioneer in the development and manufacture of money handling machines and systems. GLORY provides a variety of products such as money handling machines, cash management systems, vending machines, automatic service equipment, and cash management solutions that are built on its leading-edge recognition/identification and mechatronics technology. Committed to meet society's wide-ranging needs, GLORY serves the financial, retail, vending machine, amusement and gaming industries in over 100 countries around the world. GLORY employs approximately 9,000 people worldwide. For more information about GLORY, please visit GLORY's group website at http://corporate.glory-global.com/.
Contact
GLORY LTD.
Corporate Communications Dept.
TEL: +81-79-297-3131
Information in this document is current on the date of the announcement and subject to change without prior notice.