Release
February 24, 2017
GLORY LTD.
GLORY Enters a New System Integration Business Utilizing Robots
Utilizing our expertise in building an automated assembly line incorporating robots, we will set up a dedicated organization in April 2017 and will newly enter into a new subcontracting business model engaging in automated line building.
Our Saitama Factory began operation in 1990, and has mainly been producing for products of the distribution market. In particular, compact bank note counters are manufactured by automated assembly lines, nurturing a traditional corporate culture in automation.
The currently deployed humanoid dual-arm robot "NEXTAGE" in the Saitama Factory is manufactured by KAWADA ROBOTICS CORPORATION (Head Office 4-13-5 Nihonbashi-honcho, Chuo-ku, Tokyo, President Tadashi Shingai). We purchased the first unit in 2010, developed the robot's product assembly capability through trial and error, and launched the unit in May, 2011.
Thereafter the number of the units increased to 17, enabling us to build an automated line consisting entirely of robots. This achievement was recognized and our company received the "Special Award for the Next Generation Industry" at the 5th Robot Award Contest in 2012, and the "The METI Minister's Prize" in the 5th Monozukuri Nippon Award in 2013.
The realization of automation owes greatly to the flexibility of "NEXTAGE" which makes a side by side collaboration with human workers possible, the peripheral facilities adapted to the needs of the production site, the development capabilities of the robot end effector and the application building capabilities that integrate these.
Furthermore, with the unit numbers now 23, we have built a state-of-the-art line that automates part picking and serving, visual inspection of finished products, and finally, operation testing.
We will rollout solutions based on our expertise of "System Integration by Dual-Arm Robots" to be utilized and enable the manufacturing sites of other companies. We will aim for a business scale of over 1 billion yen by March of fiscal year 2021.
Photo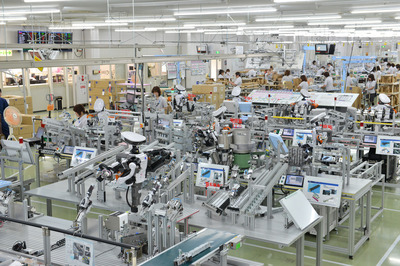 Operation Image
About GLORY LTD.
GLORY LTD., headquartered in Himeji, Japan, is a pioneer in the development and manufacture of money handling machines and systems. GLORY provides a variety of products such as money handling machines, cash management systems, vending machines, automatic service equipment, and cash management solutions that are built on its leading-edge recognition/identification and mechatronics technology. Committed to meet society's wide-ranging needs, GLORY serves the financial, retail, vending machine, amusement and gaming industries in over 100 countries around the world. GLORY employs approximately 9,000 people worldwide. For more information about GLORY, please visit GLORY's group website at http://corporate.glory-global.com/.
Contact
GLORY LTD.
Corporate Communications Dept.
TEL: +81-79-297-3131
Information in this document is current on the date of the announcement and subject to change without prior notice.