Products
October 25, 2016
GLORY LTD.
New Multi-Function Refrigerated Locker For Receiving & Storage of fresh foods
GLORY has added a New Multi-Function Refrigerated Locker called the "LEA series" in its product lineup. Released for sale from October 2016, the LEA Series is an extension of GLORY's existing Delivery Box Solution offering greater functionality for supermarkets.
The new locker solution is the first from GLORY to be equipped with refrigeration functionality. In the past, storage of fresh foods in the locker system required a separate cold insulator. With integrated refrigeration, the LEA series removes the need for special arrangements for fresh food making it simpler and more convenient for both supermarkets and their end-customers.
Following a successful trial that has been running since April 2015, Lifenet Supermarket operated by the Life Corporation (2-2-22 Nishimiyahara, Yodogawa-ku, Osaka / President & COO Takaharu Iwasaki) is extending their rollout of the LEA Series solution to their supermarkets in Oshiage in Tokyo and Nishimiyahara in Osaka. The trial has allowed customers to receive online purchase items at the designated Lifenet Supermarket stores instead of receiving them via regular courier services. The extension of Glory's Delivery Box Service with the LEA series Multifunction Refrigerated Locker will open new opportunities across various markets such as mail-order companies, transportation companies and more.
As a pioneer in the market of coin operated lockers and always focused on the convenience of customers, we continue to develop new solutions and services, such as contactless IC card operated lockers together with the software and services to provide information on the availability of lockers using a cloud based computing system. Currently, the total number of GLORY coin operated lockers installed in Japan exceeds 20,000.
GLORY, based on knowledge accumulated through experience in multiple markets, will continue developing the products that meet the diverse life styles needs of customers.
Photo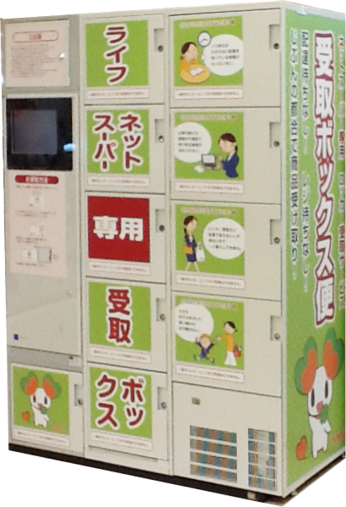 About GLORY LTD.
GLORY LTD., headquartered in Himeji, Japan, is a pioneer in the development and manufacture of money handling machines and systems. GLORY provides a variety of products such as money handling machines, cash management systems, vending machines, automatic service equipment, and cash management solutions that are built on its leading-edge recognition/identification and mechatronics technology. Committed to meet society's wide-ranging needs, GLORY serves the financial, retail, vending machine, amusement and gaming industries in over 100 countries around the world. GLORY employs approximately 9,000 people worldwide. For more information about GLORY, please visit GLORY's group website at http://corporate.glory-global.com/.
Contact
GLORY LTD.
Corporate Communications Dept.
TEL: +81-79-297-3131
Information in this document is current on the date of the announcement and subject to change without prior notice.