Products
April 28, 2016
GLORY LTD.
"FHP-S10", the New Compact and Low-Cost Automatic Medical Payment Kiosk for small-to-medium sized hospitals and dispensing pharmacies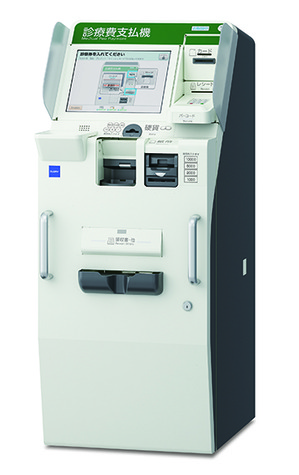 GLORY LTD. recently developed the FHP-S10, a new medical payment kiosk. Able to accept cash, debit and credit card payments at hospitals and dispensing pharmacies, the FHP-S10 will be released for sale from May 2016.
Main features:
Dimensions: 530mm (W) × 720mm (D) × 1345mm (H)
※*Dimensions downsized from the previous model FHP-20: -120mm (W), -170mm (D), -205mm (H)
Affordable price for small-to-medium sized hospitals and dispensing pharmacies.
Equipped with the same operability benefits for ease of use by the poor sighted and people with different color sensations, as adopted in the upper model FHP-20.
Capable of printing receipts and vouchers of medical treatment fees in various sizes and formats.
* Equipped with a laser printer as standard
Hospitals and dispensing pharmacies have been facing the challenges of queues at accounting desks and increased cash management operations in recent years. Additionally, pharmacists are assisting with other tasks, such as accounting, and the demand for pharmacists to focus on their original job of issuing prescriptions and drug dispensing has been increasing, since these operations can only be handled by qualified pharmacists. Despite these challenges, the introduction of the automatic medical payment kiosks is yet to be popular among small-to-medium sized hospitals and dispensing pharmacies due to the lack of installation space and budget for purchase.
The newly developed FHP-S10 has been downsized in both size and cost compared with the previous model FHP-20 thanks to the adoption of the compact recycling unit designed for the retail market instead of the conventional large sized cash recycling unit adopted in the previous model. The FHP-S10 features the same operability benefits such as, *1 a clear display for easy use by the poor sighted and people with different color sensations and guidance by animation, as the previous model. As for the method of payment, both debit and credit cards are accepted. Users can pay the larger amounts incurred due to hospitalization using these cards.
The FHP-S10 reduces the workload of the staff at the accounting desk and increases convenience for users by reducing the waiting time.
We will continue developing products that meet the demands of various customers.
*1 This display was given *2 "Color Universal Design Certificate".

*2 The Certificate given by the Color Universal Design Organization (CUDO) in recognition of the design usable for people with different color sensations.
About GLORY LTD.
GLORY LTD., headquartered in Himeji, Japan, is a pioneer in the development and manufacture of money handling machines and systems. GLORY provides a variety of products such as money handling machines, cash management systems, vending machines, automatic service equipment, and cash management solutions that are built on its leading-edge recognition/identification and mechatronics technology. Committed to meet society's wide-ranging needs, GLORY serves the financial, retail, vending machine, amusement and gaming industries in over 100 countries around the world. GLORY employs approximately 9,000 people worldwide. For more information about GLORY, please visit GLORY's group website at http://corporate.glory-global.com/.
Contact
GLORY LTD.
Corporate Communications Dept.
TEL: +81-79-297-3131
Information in this document is current on the date of the announcement and subject to change without prior notice.