Release
February 24, 2015
GLORY LTD.
Rental Lockers With Multi-locking System for Hankyu Corporation supporting PiTaPa smart card
A total of 24 sets of the rental lockers with multi-locking system consisting of 200 sets of LTS-100 series lockers were adopted by Hankyu Corporation (1-16-1 Shibata, Kita-ku, Osaka President: Yoshihiro Nakagawa) to commence operation from this February.
Hankyu Corporation is a major private railway company based in the Kansai area offering the industry's highest level of railway services. They will be introducing GLORY's new locker system as a newly added service to the users.
LTS-100 series are rental lockers with multi-locking systems capable of electronic payment for public transportation using the connection with GLORY's information processing center called GCAN Center*1. Various user-friendly features of this series, such as the keyless operation by electronic payment, IC card, QR code, and also its functionality in five different languages (Japanese, English, Chinese, Korean, and Taiwanese) have been appreciated in the market, and the sales of the lockers have accelerated particularly in stations and commercial facilities since its release the previous year. Hankyu Corporation, in appreciation of these features, has decided to adopt LTS-100 series lockers, which function with PiTaPa smart card*2 for the electronic payment of the service fee and also for the unlocking of the door.
Operational procedure using PiTaPa card
1. Storing goods
 1) Insert goods into an empty locker and lock door
 2) Swipe the PiTaPa card over the IC card reader to pay the service fee following on-screen instructions
 3) Receive "Certificate of service payment" from the printer

2. Receiving goods
 1) Swipe the PiTaPa card over the IC card reader to unlock the door following on-screen instructions
 2) Remove all goods from the locker
Hankyu Corporation, along with the adoption of the LTS-100 series lockers and for the convenience of users, have newly developed the "Empty locker search system" which allows the users to search empty lockers from the website or the digital panel in the station.
GLORY will continue to develop the products welcomed by both users and operators in pursuant to usabilities.
*1 GCAN Center is the data processing center established by GLORY LTD. in April, 2000.

  It provides the following services to many customers based on the strict security structure:

  "Payment processing support service" related with debit card, credit card and electronic money,

  "Cash settlement support service", such as, aggregation, processing and distribution of sales data

  obtained from cash processing machines, IR (Investor Relations) related support etc.

*2 PiTaPa is the registered trademark of the SURUTTO KANSAI CO., LTD.
Product Photo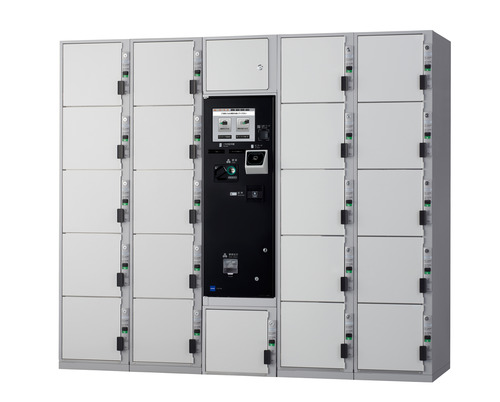 Installation image
About GLORY LTD.
GLORY LTD., headquartered in Himeji, Japan, is a pioneer in the development and manufacture of money handling machines and systems. GLORY provides a variety of products such as money handling machines, cash management systems, vending machines, automatic service equipment, and cash management solutions that are built on its leading-edge recognition/identification and mechatronics technology. Committed to meet society's wide-ranging needs, GLORY serves the financial, retail, vending machine, amusement and gaming industries in over 100 countries around the world. GLORY employs approximately 9,000 people worldwide. For more information about GLORY, please visit GLORY's group website at http://corporate.glory-global.com/.
Contact
GLORY LTD.
Public Relations Dept.
TEL: +81-79-297-3131
Information in this document is current on the date of the announcement and subject to change without prior notice.