"FHP-20", the New Medical Payment Machine with improved operability supporting electronic money and a renewed operating screen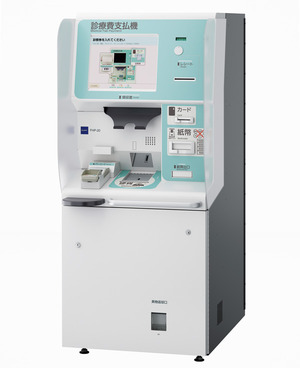 GLORY LTD. recently developed FHP-20, a new medical payment machine designed for hospitals, which will be released for sales from this October. It was exhibited at the International Modern Hospital Show 2014 held this past July 16 for a few days at the Tokyo Big Sight.
Main features:
Increased operability by supporting electronic money
Improved operating visibility by renewing the design of the display and adopting UD (Universal Design) fonts
The new animation guidance for clearing error messages helps the machine swiftly recover from any operational trouble.
Lately hospitals are taking initiatives in adopting the medical payment machine in addition to ensuring correct deployment of their staff and reviewing the arrangement of hospital facilities, so that they may improve services to patients and minimize the burden to staff. Medical payment machine is the machine installed in replacement of the payment counter in hospitals, allowing patients to settle medical bills themselves. The adoption of the medical payment machine has the following merits and advantages for both patients and hospitals: reduction of patients' waiting time for payment of medical bills, correct deployment of staff who had been working at the payment counter.
The new FHP-20 is the latest medical payment machine, which has been designed to pursue the ease of use for both patients and hospitals by supporting payments by electronic money in addition to the conventional methods of payment by cash, credit and debit cards. The expansion of the payment method improves the operability for patients and optimizes the volume of cash that needs to be controlled. Also the design of the operational screen display, granted with a CUD certificate, was renewed by adopting UD fonts and adjusting the font size, while drastically improving the visibility for patients and ensuring smooth operability for all users. Moreover, the adoption of animated on-screen guidance for clearing error messages helps the machine swiftly recover from unexpected operational problems.
We will seek to improve the operability of our machines, while aiming to develop such machines that will satisfy both users and administrators.
About GLORY LTD.
GLORY LTD., headquartered in Himeji, Japan, is a pioneer in the development and manufacture of money handling machines and systems. GLORY provides a variety of products such as money handling machines, cash management systems, vending machines, automatic service equipment, and cash management solutions that are built on its leading-edge recognition/identification and mechatronics technology. Committed to meet society's wide-ranging needs, GLORY serves the financial, retail, vending machine, amusement and gaming industries in over 100 countries around the world. GLORY employs approximately 9,000 people worldwide. For more information about GLORY, please visit GLORY's group website at http://corporate.glory-global.com/.
Contact
GLORY LTD.
Public Relations Dept.
TEL: +81-79-297-3131
Information in this document is current on the date of the announcement and subject to change without prior notice.