GLORY's Rental Locker With Multi-locking System "LT series" adopted for trial operation of "Rakuten-Box"
- A Delivery Box System for commodity purchased at "Rakuten Market" -
GLORY LTD. and its subsidiary, GLORY Service Co., Ltd., have participated in a trial operation of a delivery box system called "Rakuten-Box", which is associated with the "Rakuten Market" (http://www.rakuten.co.jp/), the largest e-commerce site in Japan operated by Rakuten, Inc. The system allows the online purchaser to receive the purchased commodity from the delivery box within the lockers installed at the premises during their commute to and from school or work. The operation of the "Rakuten-Box" began May 27 at Nanba Station of Osaka Municipal Subway and the Kansai University.
As a pioneer in the market of the coin operated lockers and in pursuing the convenience of customers, we have been developing various products and services, such as contactless IC card operated lockers and the service to provide information on the availability of lockers using a cloud based computing system. Currently, the total number of our coin operated lockers installed in Japan has exceeded 20,000. Our participation in the trial operation of the "Rakuten-Box" has been successful thanks to our development of rental lockers with multi-locking system called "LT series", which we have customized for Rakuten, Inc.
The operation of the "Rakuten-Box" is a new service of the "Rakuten Market". When purchasing items at the "Rakuten Market", users can select "Rakuten-Box" as a way of receiving their purchased items; this allows following users to receive their items at dedicated lockers at any time without a concern for the delivery time: working adults and students who are not always home during the day, or women who do not like to receive deliveries to their home late at night. Also, delivery of various commodities purchased by multiple customers to a designated locker will ensure the delivery company does not visit each customer individually, increasing efficiency within the delivery system.
GLORY will continue to develop such products that meet the demands in the diversified life styles of customers based on its know-how accumulated through working for various markets.
Photo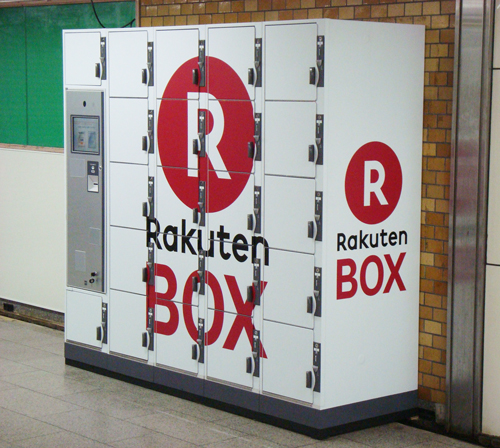 About GLORY LTD.
GLORY LTD., headquartered in Himeji, Japan, is a pioneer in the development and manufacture of money handling machines and systems. GLORY provides a variety of products such as money handling machines, cash management systems, vending machines, automatic service equipment, and cash management solutions that are built on its leading-edge recognition/identification and mechatronics technology. Committed to meet society's wide-ranging needs, GLORY serves the financial, retail, vending machine, amusement and gaming industries in over 100 countries around the world. GLORY employs approximately 9,000 people worldwide. For more information about GLORY, please visit GLORY's group website at http://corporate.glory-global.com/.
Contact
GLORY LTD.
Public Relations Dept.
TEL: +81-79-297-3131
Information in this document is current on the date of the announcement and subject to change without prior notice.