Products
November 29, 2013
GLORY LTD.
GLORY develops "Electronic Data Entry Tablet" to fill out Financial Slips
- Easy-to-use touch panel operation increases customer satisfaction -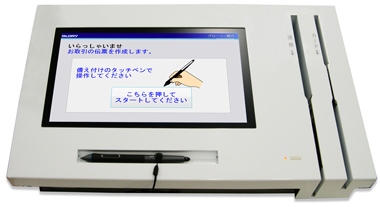 GLORY developed the "Electronic Data Entry Tablet" for financial institutions to be sold from December 2013. The tablet is the touch panel type to operate with touch pen.
Main features:
User-friendly operation via touch panel screen using touch pen
Reduce customers' burden in filling out financial slips, realizing time-saving
Increase efficiency and accuracy through outputting paper forms in typed letters and numbers
Various slips for payment or deposit have been conventionally prepared by bank customers in handwriting using high tables in banks or other financial institutions. Errors or omissions by customers in making such slips have been bothering customers, imposing burden on them to rewrite or add postscripts. The narrow writing spaces, small preprinted letters, or numerous entry items in conventional paper slips have been frequently obligating staff members at banks and financial institutions to assist customers, particularly elderly customers, in completing slips. Improvement of such situation has therefore been requested by customers.
The "Electronic Data Entry Tablet" lately developed by GLORY is the financial slips issuing system designed to be installed at lobbies of banks and financial institutions. Necessary slips will be issued automatically by customers entering the data into the touch panel screen using touch pen.
This new product with the touch panel operation screen, which displays large letters, buttons etc., can be easily operated even by elderly customers giving little stresses to them. Entry of the data can also be made smoothly even by persons having weak handwriting pressures, by contacting the screen lightly with the touch pen. Customers can make various financial slips without omissions by simply following the guidance displayed in the touch panel.
The new product also has the following functions:
 ・Read customers' data from the cash cards or passbooks, and print them automatically into the slips
 ・Reuse the data of account numbers, signatures etc. when issuing multiple number of slips, saving substantial time in repeating similar transactions
Moreover, description of the figures and addresses in typed letters on the slips will remarkably increase the accuracy of the recognition by scanners, compared with the case of the conventional slips of manual entry, while increasing the efficiency and accuracy of paper works, and minimizing customers' waiting time at the same time.
GLORY will keep developing various products that may respond to the needs of banks and other financial institutions in increasing their operational efficiency and strictness.
Image on High Table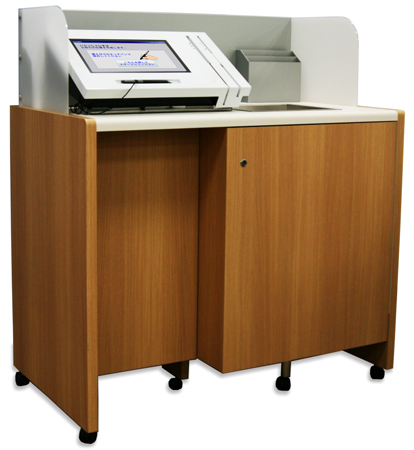 About GLORY LTD.
GLORY LTD., headquartered in Himeji, Japan, is a pioneer in the development and manufacture of money handling machines and systems. GLORY provides a variety of products such as money handling machines, cash management systems, vending machines, automatic service equipment, and cash management solutions that are built on its leading-edge recognition/identification and mechatronics technology. Committed to meet society's wide-ranging needs, GLORY serves the financial, retail, vending machine, amusement and gaming industries in over 100 countries around the world. GLORY employs approximately 9,000 people worldwide. For more information about GLORY, please visit GLORY's group website at http://corporate.glory-global.com/.
Contact
GLORY LTD.
Public Relations Dept.
TEL: +81-79-297-3131
Information in this document is current on the date of the announcement and subject to change without prior notice.