GLORY develops New Currency Change Dispensing and Recycling System
- Next Generation Currency Change Dispensing System visualizing each transaction -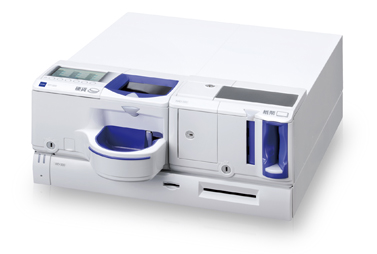 GLORY developed the new currency change dispensing and recycling system consisting of RT-300, RAD-300 Coin and Banknote Recycling Machines, and WD-300 Rolled Coin Cabinet, and have started their sales in June 2013. These machines, linked with POS systems at supermarkets, mass merchandisers, specialty stores, restaurants etc., automate counting and dispensing of cash received from customers.
Main features:
Adoption of 4.3 inch large size color LCD display with easier operability and superior visibility.
Enhanced log reference function to visualize detailed transaction and operation.
Incorporation of WD-300 to accommodate rolled coins, and reduce time for replenishing coins.
In recent years, currency change dispensing and recycling systems have been installed increasingly at supermarkets and other retailers to control cash rigorously and observe compliance obligations, in addition to optimizing cashiers operation and preventing errors in paying changes. Since GLORY started the sales of Japan's first coin and banknote recycling machines in 1992, we have been expanding their sales primarily in the retail market.
The new models, RT-300 and RAD-300, are the 5th generation of the coin and banknote recycling machines, which incorporate new functions to enhance "ease of use" and "security". And they have been developed based on the know-how of GLORY acquired through its past experiences.
The 4.3 inch color LCD display, adopted for the first time in the industry of coin and banknote recycling machines, makes it easy for the operator to see various information, including the balance of change, restoration guidance at the time of the troubleshooting. The new system has also pursued friendly operations by adopting LEDs to illuminate each transaction of cash dispensing and withdrawing and prevent operation errors, such as, leaving the changes in drawers.
Through referring to the operation log data, it has also become possible to obtain details of each transaction with customers, as well as to grasp each operator's change dispensing transactions.
Additionally, by connecting the coin and banknote recycling machines to WD-300, it has become possible to store, count and control the rolled coins at each cashier's location. Operators can then take and replenish coins from rolled coins stored in WD-300, when the coin recycling machine falls short of coins. Replenishment of coins that has been conventionally done at the back office will, therefore, be eliminated.
GLORY will keep striving to solve problems of customers and create new values, offering total solutions to improve the efficiency and strictness required at various stores, based on a variety of product lineup centering on coin and banknote recycling machines.
About GLORY LTD.
GLORY LTD., headquartered in Himeji, Japan, is a pioneer in the development and manufacture of money handling machines and systems. GLORY provides a variety of products such as money handling machines, cash management systems, vending machines, automatic service equipment, and cash management solutions that are built on its leading-edge recognition/identification and mechatronics technology. Committed to meet society's wide-ranging needs, GLORY serves the financial, retail, vending machine, amusement and gaming industries in over 100 countries around the world. GLORY employs approximately 9,000 people worldwide. For more information about GLORY, please visit GLORY's group website at http://corporate.glory-global.com/.
Contact
GLORY LTD.
Public Relations Dept.
TEL: +81-79-297-3131
Information in this document is current on the date of the announcement and subject to change without prior notice.