Release
March 29, 2013
GLORY LTD.
Two GLORY products Awarded Design Prize at "red dot design award:product design 2013"
- RBG-100 and RBG-200 Banknote Recyclers -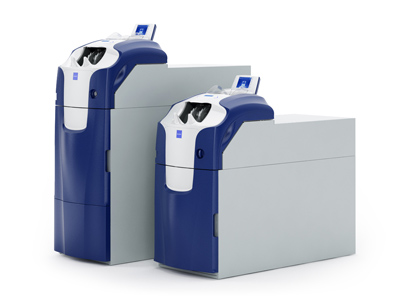 GLORY Banknote Recyclers, RBG-100 and RBG-200, have been awarded the world's famous design prize, "red dot award 2013", in the category of the "product design". GLORY has won this prize for the second consecutive year since it received the same prize with its Cash Recycling System, CI-10 and CI-100 in 2012.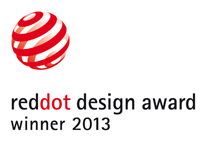 The red dot design award contest, coordinated by the Design Zentrum Nordrhein Westfalen, Germany, is one of the most prestigious international design award contests, which has been lasting for more than half a century since 1955. The award comprises three categories: "product design", "communication design" and "design concept". RBG-100 and RBG-200 have been awarded in the category of the "product design". Various products commercialized in the past two years have been evaluated based on the standards of innovation, functionality, ergonomics, ecology and durability. Entries were made by 1,865 companies from 54 countries with 4,662 products.
Both RBG-100 and RBG-200, designed for teller counters of overseas financial institutions, can deposit and dispense banknotes according to customers' needs. RBG-100, targeted for the US market, accommodates industry's largest capacity of max. 17,000 banknotes, and process at the industry's fastest speed of 10 banknotes per second. RBG-200, targeted mainly for Europe, accepts industry's largest variation of up to 128 kinds of banknotes.
Product Images
Details about these products are shown in the following PDFs:
About GLORY LTD.
GLORY LTD., headquartered in Himeji, Japan, is a pioneer in the development and manufacture of money handling machines and systems. GLORY provides a variety of products such as money handling machines, cash management systems, vending machines, automatic service equipment, and cash management solutions that are built on its leading-edge recognition/identification and mechatronics technology. Committed to meet society's wide-ranging needs, GLORY serves the financial, retail, vending machine, amusement and gaming industries in over 100 countries around the world. GLORY employs approximately 9,000 people worldwide. For more information about GLORY, please visit GLORY's group website at http://corporate.glory-global.com/.
Contact
GLORY LTD.
Public/Investor Relations Dept.
TEL: +81-79-297-3131
Information in this document, including product prices and specifications, content of services and contact information, is current on the date of the announcement but is subject to change without prior notice.