Release
February 8, 2013
GLORY LTD.
GLORY wins Grand Prize at "2013 Kansai Economic and Management Summit Awards"
GLORY has been awarded the grand prize at "The 2013 Kansai Economic and Management Summit Awards" held jointly by "Kansai Economic Federation" and "Kansai Association of Corporate Executives".。

This award, implemented since 2005 to enhance corporate competitiveness of business entities and to contribute to vitalizing various regional activities in Kansai area, has been given to the companies, business groups or individuals who have been demonstrating their superior technologies, business models or their contribution to vitalizing Kansai area.
The prize won by GLORY is the award given to the most superior company among others in Kansai area, and GLORY received this award in appreciation of the following backgrounds.
As a pioneer in the industry of money handling equipment which requires higher level of operating accuracy and efficiency, GLORY has been contributing to streamlining the operations in both financial and retail industries. Particularly, GLORY has a large share in the market of open teller systems, which automate teller operations at financial institutions, as well as in the market of coin and banknote recyclers for cashiers.
GLORY also has been developing products for "security industry" (*) based on its technologies elaborated in the money handling industry.
GLORY has been aggressively expanding its overseas business through exporting its products to more than 100 countries. Also, it has acquired a U.K. based company having the world-wide sales channels, particularly in the major markets of Europe and USA.
*

GLORY developed Speech Privacy Protection System for sales since September 2011. The world's first technology developed by GLORY, which generates special sounds synchronously with conversations, prevents the recognition of the speech, and protects the leakage of conversations to third-party persons.

*

GLORY developed the industry's first ballot sorter equipped with facing and orienting functions for sales from April 2013.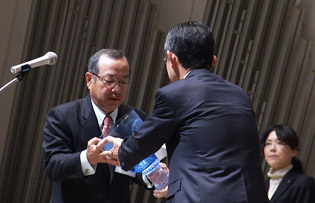 About GLORY LTD.
GLORY LTD., headquartered in Himeji, Japan, is a pioneer in the development and manufacture of money handling machines and systems. GLORY provides a variety of products such as money handling machines, cash management systems, vending machines, automatic service equipment, and cash management solutions that are built on its leading-edge recognition/identification and mechatronics technology. Committed to meet society's wide-ranging needs, GLORY serves the financial, retail, vending machine, amusement and gaming industries in over 100 countries around the world. GLORY employs approximately 9,000 people worldwide. For more information about GLORY, please visit GLORY's group website at http://corporate.glory-global.com/.
Contact
GLORY LTD.
Public/Investor Relations Dept.
TEL: +81-79-297-3131
Information in this document is current on the date of the announcement and subject to change without prior notice.