Release
October 11, 2012
GLORY LTD.
The Humanoid Robot "NEXTAGE" realizing a flexible assembly line received the "Special Award for Next Generation Industry" at the 5th Robot Award Contest in Japan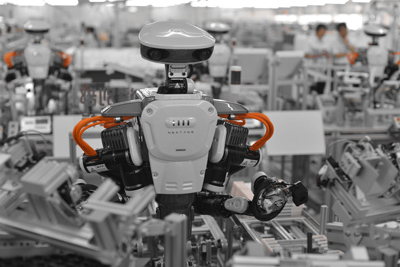 On October 10, 2012, GLORY LTD. (Head Office at Himeji, Hyogo, Japan, President: Hirokazu Onoe) received the "Special Award for Next-generation Industry" at the 5th Robot Award Contest, jointly with KAWADA INDUSTRIES, INC. (a group company of KAWADA technologies, inc., Head Office at Nanto, Toyama, Japan, President: Tadahiro Kawada). The contest was co-sponsored by the Japan Machinery Federation and the Ministry of Economy, Trade and Industry.
The new automated assembly line incorporating the multi-purpose humanoid robot "NEXTAGE", which was developed jointly by the two companies, is a next generation production line capable of minimizing the lead time for machinery installation and cost in capital investment. This innovative assembly line is also expected to contribute to reviving Japan as a country with core manufacturing technology.
Manufacturers in Japan have been lately relocating their production facilities overseas due to the sharp fluctuation in the yen/dollar exchange rate and other reasons. Also along with the expansion of aging population combined with low birth rates, a hollowing out of the industrial base is supposed to become inevitable in Japan.
Under the circumstances, GLORY adopted the humanoid robots to build a new production line, which is capable of processing detailed precise works in manufacturing currency handling machines using a number of different parts. The new innovative assembly line, capable of stabilizing the product quality, has been built up by adopting the humanoid robots "NEXTAGE", and will flexibly adapt to manufacturing a wide variety of products in variable quantities.
The close collaboration between GLORY, having the technical skills in mass production, and KAWADA INDUSTRIES, having the cutting-edge technology in the robot manufacturing industry, has demonstrated, each providing their respective strengths, a future path toward preserving domestic manufacturing bases in Japan.
We are confident that the challenge between the two companies will enhance the flexibility of automated production line through the adoption of humanoid robots "NEXTAGE", and will become a big step forwards to the innovation of "Manufacturing" in Japan.
Operation Image
About GLORY LTD.
GLORY LTD., headquartered in Himeji, Japan, is a pioneer in the development and manufacture of money handling machines and systems. GLORY provides a variety of products such as money handling machines, cash management systems, vending machines, automatic service equipment, and cash management solutions that are built on its leading-edge recognition/identification and mechatronics technology. Committed to meet society's wide-ranging needs, GLORY serves the financial, retail, vending machine, amusement and gaming industries in over 100 countries around the world. GLORY employs approximately 9,000 people worldwide. For more information about GLORY, please visit GLORY's group website at http://corporate.glory-global.com/.
Contact
For general questions with "NEXTAGE"
KAWADA INDUSTRIES, INC.
Robotics Div. Marketing Dept.
122-1 Hagadai, Haga-machi, Haga-gun, Tochigi, Japan 321-3325
Tel: +81-28-677-5737
e-mail:nextage@kawada.co.jp
Questions from Journalistic Organization
GLORY LTD.
Public/Investor Relations Dept.
Tel: +81-79-297-3131
Information in this document is current on the date of the announcement and subject to change without prior notice.