Information
September 30, 2022
GLORY LTD.
GLORY Integrated Report 2022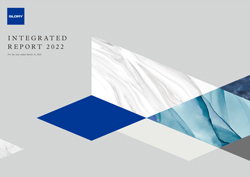 The GLORY Integrated Report 2022 is now available on the company's website.
Guided by our corporate philosophy, 'We will contribute to the development of a more secure society through a striving spirit and co-operative efforts,' this report provides a comprehensive overview of Glory's value creation process for realizing its vision of 'We enable a confident world' and for sustainable growth of its business and society.
Main contents
1. Glory's Value Creation
Introduction to Glory's value creation process through its business models
2. Special Feature: Source of Innovation
Enhancement of human and intellectual capital to achieve our growth strategy
3. Strategies and Performance
Progress and future initiatives of Glory's 2023 Medium-Term Management Plan, and business strategy of Acrelec
4. Foundation for Sustainability
ESG initiatives for the sustainable growth of Glory's business and society
About GLORY LTD.
GLORY LTD., headquartered in Himeji, Japan, is a pioneer in the development and manufacture of cash handling machines and systems. GLORY provides a variety of products built on its leading-edge recognition/identification and mechatronics technology, such as cash handling machines, cash management systems, vending machines and automatic service equipment. Committed to meet society's wide-ranging needs, GLORY serves the financial, retail, vending machine, amusement and gaming industries in more than 100 countries. For more information about GLORY, please visit GLORY Group website at https://corporate.glory-global.com/.
Contact
GLORY LTD.
Corporate Communications Dept.
Management Strategy Headquarters
TEL: +81-79-297-3131
Information in this document is current on the date of the announcement and subject to change without prior notice.