Capital and Business Alliance with Redish Co., Ltd.
We are pleased to announce that as of May 26, 2021, GLORY LTD. has formed a capital and business alliance agreement with Redish Co., Ltd. (Head Office: Minato-ku, Tokyo / Representative Director: Takeshi Matsukuma, hereinafter "Redish"), which develops business management solutions specializing in the food service industry.
1. Purpose
Under its Long-Term Vision 2028, Glory is working to expand its new business areas through Data Analytics Technology and to promote DX (Digital Transformation) in order to create new values in response to the needs of customers and society.
Redish offers end-to-end business management solutions for drinking and dining establishments. These include attracting customers, raising funds and managing business and are firmly supported by Redish marketing and technology professionals with a focus on financial support and consulting services.
Our aim is to solve the management issues faced by the food service industry and to provide new solutions to attract the existing customers while creating new ones, and this will be achieved by linking Redish's data with Glory's DMP (Data Management Platform) *1.
Synergy effect
 - Data value improved by linking Redish's data and Glory's DMP
 - New services offered e.g. customer and store analysis to cater for restaurant management issues
 - Sales expanded for coin and banknote recyclers and ticket vending machines by developing sales channels
  for individual and small stores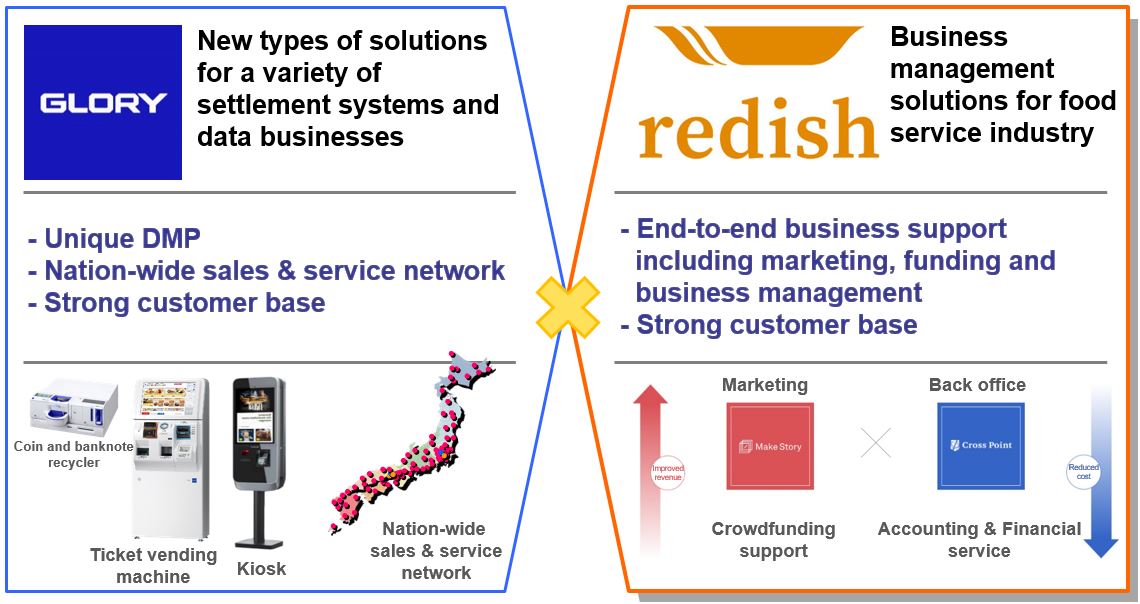 2. Redish Co. Ltd. Overview
| | |
| --- | --- |
| (1) Company Name | Redish Co., Ltd. |
| (2) Head Office | SW Roppongi Dori Building 3F, 1-12-5 Nishiazabu, Minato-ku, Tokyo |
| (3) Representative | Takeshi Matsukuma, Representative Director |
| (4) Business content | Development of business management solutions for food and beverage industry |
| (5) Date of establishment | July 2015 |
| (6) Website | https://redish.jp/ |
*1

DMP (Data Management Platform) is a platform used to manage various information and data accumulated online.
About GLORY LTD.
GLORY LTD., headquartered in Himeji, Japan, is a pioneer in the development and manufacture of cash handling machines and systems. GLORY provides a variety of products built on its leading-edge recognition/identification and mechatronics technology, such as cash handling machines, cash management systems, vending machines and automatic service equipment. Committed to meet society's wide-ranging needs, GLORY serves the financial, retail, vending machine, amusement and gaming industries in more than 100 countries. For more information about GLORY, please visit GLORY Group website at https://corporate.glory-global.com/.
Contact
GLORY LTD.
Corporate Communications Dept.
Management Strategy Headquarters
TEL: +81-79-297-3131
Information in this document is current on the date of the announcement and subject to change without prior notice.