Release
October 22, 2020
GLORY LTD.
Order received from Dollar General, one of America's largest chains of variety stores, for CI-10 coin and banknote recyclers for self-checkout systems
Glory Global Solutions Inc., a company of Glory group, has received an order from Dollar General Corporation ("Dollar General") to supply the CI-10 coin and banknote recyclers for self-checkout systems, to be delivered starting in 2020. Dollar General operates 16,270 stores in 46 states as of July 31, 2020.
The CI-10 coin and banknote recyclers can be incorporated in self-checkout systems with cashless payments terminals at retail stores, where customers can make payments by themselves using cash, credit-cards, etc. The products are expected to contribute to the improvement of efficiency and rigor of cash management, as well as prevention of various virus infections because of reduction of contacts between store staff and customers. Therefore, the demands for the products are expected to grow further in the future.
Over 30,000 units of the CI series have been installed in back offices at various retailers in 36 countries, and this is the first large-scale order for the CI-10 to be incorporated in checkout systems.
Glory has positioned the expansion of sales to overseas retail industries as one of the key strategies in our three-year "2020 Medium-Term Management Plan". Glory will continue to propose products and solutions that support various methods of payments and contribute to the realization of a safe and secure society.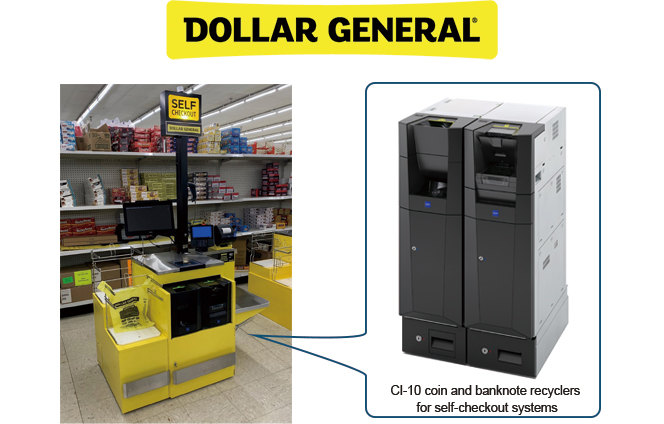 About GLORY LTD.
GLORY LTD., headquartered in Himeji, Japan, is a pioneer in the development and manufacture of cash handling machines and systems. GLORY provides a variety of products built on its leading-edge recognition/identification and mechatronics technology, such as cash handling machines, cash management systems, vending machines and automatic service equipment. Committed to meet society's wide-ranging needs, GLORY serves the financial, retail, vending machine, amusement and gaming industries in more than 100 countries. For more information about GLORY, please visit GLORY Group website at https://corporate.glory-global.com/.
Contact
GLORY LTD.
Corporate Communications Dept.
Management Strategy Headquarters
TEL: +81-79-297-3131
Information in this document is current on the date of the announcement and subject to change without prior notice.