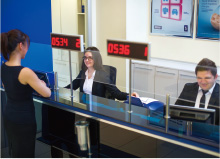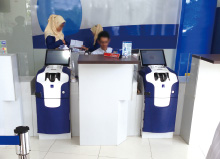 The GLORY Group promotes regional strategies based on thorough market analysis, providing high value-added products and solutions aimed at resolving customer issues around the world.
Automated Tellers Assistance
In recent years, demand for automating cash handling operations has been increasing among financial institutions in developing countries in order to realize efficient and accuracy operations.
With the aim of further increasing customer satisfaction, a major Indonesian bank has sought to reduce persistently long customer waiting times through the use of GLORY's RBG-100 banknote recycling machine. Compact in size, the RBG-100 can count 10 banknotes per second. The introduction of this product has resulted in a 30% reduction of customer waiting time.
In addition, the USF-50 series banknote sorting machine is equipped with a function to read and record serial numbers of banknotes. The sophisticated authenticating capability of this machine, which includes the said function, makes it possible to remove a number of counterfeit banknotes, contributing to increasing the credibility of currencies circulated in developing countries.
Proposing Solutions in Line with Market Needs
In France, amid the adoption of ATMs and other self-service machines, financial institutions seek to strengthen contact with customers by reducing tellers' workload for handling cash as much as possible. Many banks have already introduced teller cash dispensers but as banknotes run out the machines need to be refilled with cash, which requires safes to be opened and closed, raising security issues. In response, GLORY created the RBG-200 banknote recycling machine, which enables the use of deposited banknotes for immediate withdrawal. In addition to eliminating the workload of tellers, this machine also offers improvements in security.
In the United States, where theft countermeasures are particularly in demand, we increased the thickness of the money handling machine cabinet and made it more robust to increase security. Furthermore, we contribute to customer convenience by providing substantial support through our expanded service network adequate for such a large country.