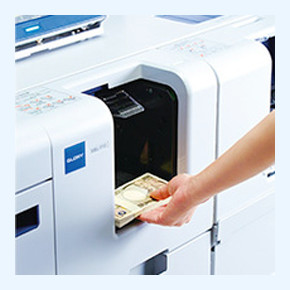 In November 2014, we launched sales of WAVE Pro, a new open teller system incorporating functionality previously unavailable in the industry.
This open teller system, our core product, enables bank counter and sales staff at financial institutions to complete cash deposits and withdrawals on their own rather than through tellers, significantly increasing the efficiency and accuracy management of these transactions.
At present, this product is installed in approximately 14,000 financial institutions in Japan.

Realizing Further Efficiencies and Enhanced Risk Management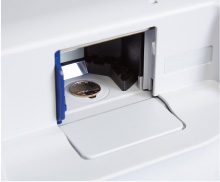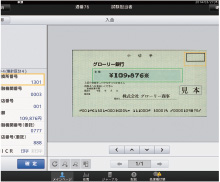 The demand at financial institutions in recent years has been that the number of clerical workers at branches shall be minimized, and the staff generated accordingly shall be transferred to sales operations, under the conditions that "increase of profitability" is becoming a more important business issue than ever before.
WAVE Pro has an optical image processing capability that creates a digital image of damaged banknotes and coins, currencies no longer in circulation and commemorative coins that up to now were managed by hand. The open teller system enables balancing management treated the same as cash. Optical character reading (OCR) technology is used to manage drafts and checks with automatic reading and sorting functions that reduce time required for confirmation, tabulation and other processes.
In addition, WAVE Pro is equipped with a newly designed currency transport mechanism that prevents the notes from becoming tainted and realizes the industry's first automatic verification for the balance of new clean banknotes, eliminating the need to count cash manually and reducing the workload.
These functions enable the unified management of cash, realizing a significant reduction in daily cash balancing time, as well as preventing mistakes that occur when handling cash and strengthening risk management.
GLORY contributes to the resolution of issues at financial institutions by minimizing the time required for administrative processing and nearly eliminating human teller operations altogether.
Environmental Contributions
GLORY's WAVE Pro is certified as a G-eco product, our proprietary evaluation criteria. CO2 emissions during the operation have been reduced by 30% compared to conventional models.


 Conducting User Tests to Make Significant Leaps Forward in Operability
Satoko Yamashita
Product Planning Department 3, Product Planning Division,
Domestic Business Headquarters
It is important that our products can be used by the staff of financial institutions with ease and peace of mind. Incorporating opinions received during user tests, we changed the internal structure so that banknotes could be easily removed from the unit. Furthermore, we added animation to recovery guidance for the case when errors occur, significantly improving operability compared to conventional models.