We will focus the total resources of the GLORY Group toward the full realization of the 2017 Medium-Term Management Plan.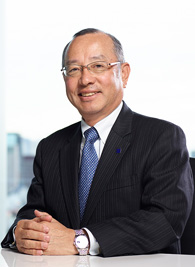 The GLORY Group draws on its history as a pioneer in the development of cash handling machines since the introduction in 1950 of the first coin counter made in Japan. Today, we serve customers in the financial, retail and many other industries worldwide in more than 100 countries by supplying products and solutions that enable customers to operate with rigor and efficiency.
We will celebrate our 100th anniversary in March 2018. We have established our Long-Range Vision 2018 as a shared goal for the entire Group in order to achieve the group vision of "GLORY as the world's top brand." To realize the vision, we have been implementing the 2017 Medium-Term Management Plan and, in this last year of the Plan, we are pursuing strategies for business growth and improved profitability.
In our overseas market, there are still many regions where cash management and payment tasks have not yet been mechanized, and we believe that there is strong potential for sales of GLORY products designed to optimize the rigor and efficiency of these tasks. In order to meet these needs of the financial institutions, we are further strengthening our promotion of banknote recyclers for tellers in Europe and North America, while in China we will continue to accelerate the introduction of these products. In the retail industries where there has been a rapid increase in our sales in regions throughout the world, we will continue to intensify our solution marketing activities to introduce the CASHINFINITY™ retail cash management system to customers and accelerate the emergence of distribution markets as a core area for our overseas business operations.
Next, I will address our business in Japan. In the Financial Market segment, we are working steadily to capture replacement demand for products sold at the time Japan introduced its new banknotes in 2004. In the Retail and Transportation Market segment, supermarket chains are increasingly switching to semi-self service checkout, in which shoppers process their own payments, as a way of improving store operating efficiency and overcoming labor shortages. To achieve further sales growth in this segment, we are expanding our proposal marketing of coin and banknote recyclers designed for this type of checkout.
Meanwhile, we entered to the robot system integration business in April 2017. It supports the system construction of automated production lines using humanoid dual-arm robots. We are aiming for its early commercialization. We will continue to carry on developing new technologies, products and services to meet future needs.
We ask for your continued support and understanding as we continue to take many actions for meeting the high expectations of our customers, shareholders and all other stakeholders.
June 2017

Hirokazu Onoe
President