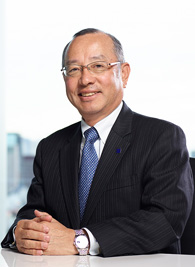 The GLORY Group draws on its history as a pioneer in the development of money handling machines since the introduction in 1950 of the first coin counter made in Japan. Today, we serve customers in the financial, retail and many other market sectors worldwide in more than 100 countries by supplying products and solutions that enable customers to operate with rigor and efficiency.
We will celebrate our 100th anniversary in 2018. We have established our Long-Range Vision 2018 as a shared goal for the entire Group in order to achieve the group vision of "GLORY as the world's top brand." To realize the vision, we have been implementing the 2017 Medium-Term Management Plan and, in this second year of the Plan, we are pursuing strategies for business growth and improved profitability.
In Japan, we are strengthening our marketing capabilities at the front-line level, including our branches and sales offices. We are also working steadily to develop replacement demand and new customers for our flagship products, including open teller systems and coin and banknote recyclers for cashiers. We are also creating new business models and next-generation flagship products, including products based on our original biometric identification technology and electronic payment services.
Overseas, we are actively building markets in Europe and North America, which offer greater growth potential. Specifically, we are building on initiatives started in the last year to successfully close sales of banknote recyclers for tellers, and driving the expansion of our business domain by actively marketing our CASHINFINITYTM cash management systems for retailers. In Asia, we are expanding our direct sales and service networks, while building relationships with new customers. We also aim to accelerate our growth in overseas markets under a strategy based on continuing mergers and acquisitions, similar to the recent acquisitions of the New Zealand based distributor Advanced Transaction Systems, REV Ventures LLC, a developer of cash handling software of the U.S., and In-Tech, LLC, a distributor of cash management technologies in Russia.
In the year ending March 2017, we will continue to implement the strategies described above, targeting net sales of ¥220 billion, operating income of ¥19.0 billion, and net income attributable to owners of the parent of ¥8.0 billion.
We ask for your continued support and understanding as we continue to take many actions for meeting the high expectations of our customers, shareholders and all other stakeholders.