We view our suppliers as important partners, and seek to establish a relationship of trust and mutual growth through fair and open trading as well as compliance with all laws and ordinances.
Purchasing Policy
We, as a Glory Group, procure parts from our suppliers in a fair and transparent manner in all aspects of our transactions, while strictly observing related laws and regulations, and establishing the relationship built on the trust with them as their partner. We also proceed our procurement activities taking into consideration of the concept of both CSR and the environmental conservation for developing sustainable societies.
1.Strict compliance with legal and social norms
In addition to strict compliance with applicable laws, we respect the ethical norms of society and promote transparency, fairness, and equitability in our purchasing activities.
2.Environmental preservation
Based on Glory's Environmental Policy, "We will act in earth-friendly ways and endeavor to provide environmentally-conscious products with services that contribute to a sustainable society." We are committed to environmental preservation initiatives, and we have established Green Procurement Standards covering the purchasing and procurement of materials.
3.Fairness and impartiality in transactions
Glory provides opportunities on an impartial basis to all suppliers who comply with our selection guidelines, regardless of whether or not they are based in Japan and without regard to prior transaction history. We endeavor to find the best suppliers for our company by maintaining free competition and ensuring fair evaluation and selection.
4.Maintenance of quality and competitive and reasonable pricing
Our Quality Policy is "We will provide products and services in a timely manner to win the confidence and satisfaction of customers." We focus on quality, price, delivery schedules, and technology development, and we make active use of proposals from our suppliers regarding new materials and ways to lower costs.
5.Mutual advancement based on relationships of trust
Through fair transactions, we aim to establish relationships of trust with suppliers and contribute to our mutual advancement.
6.Management and protection of information
Confidential business and technical information acquired by Glory in the course of purchasing transactions is managed strictly and never divulged to outside parties without the consent of the supplier concerned.
7.Promotion of CSR-conscious procurement
We promote our procurement activities through seriously considering the concept of CSR.
Transparent and Fair Purchasing
Glory provides opportunities on an impartial basis to all suppliers who comply with its selection guidelines, regardless of the country they are based in and irrespective of prior transaction history. We endeavor to find the best suppliers for our company by maintaining free competition and ensuring fair evaluation and selection.
We aim for thorough understanding on the part of our purchasing coordinators of all related laws and regulations, including the Subcontract Act, and the specialist knowledge required for the purchaser.
Strengthening Partnerships with Suppliers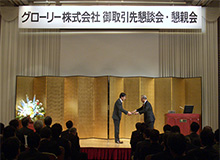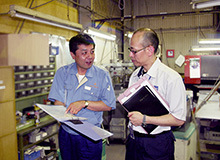 We view our suppliers as partners in ensuring reliable quality, and therefore establishing a structure for cooperation is essential. To that end, we regularly hold Quality Conferences at which information concerning quality and manufacturing processes is shared and issues are examined. We also sponsor annual Supplier Conferences through dialogue and exchange to build relationships of trust.
We also hold Quality Improvement Activity Workshops, where we explain our purchasing policies to our suppliers in addition to providing them with opportunities to present their case studies of quality improvement methods used by our suppliers. The presentations are used by our suppliers to share information among themselves.
Our parts acceptance unit also conducts regular inspection visits to our suppliers to conduct on-site checking of production processes and offer improvement advice.
Promotion of CSR Procurement
CSR Procurement
We are proceeding to conform to the Code of Conduct established in EICC (Electronic Industry Citizenship Coalition), and also proceeding conflict mineral survey.
We also issued "Glory CSR Procurement Guidebook" for Japanese suppliers in March 2014 and "Glory Supplier Code of Conduct" for non-Japanese suppliers oversea in March 2016.
Green Procurement
Glory is committed to promoting green procurement, which involves purchasing environmentally friendly products from suppliers who collaborate in our environmental efforts. By purchasing materials with minimal environmental impact and supplying products that are environmentally responsible we contribute to environmental preservation and the establishment of a sustainable society. Glory Green Procurement Standards have been established in an effort to promote even further understanding and participation among our suppliers on this basis.
Green Procurement Standard The 20th edition
Specified Chemical Substances The 21th edition