We emphasize opportunities for dialogue with shareholders and investors, and engage in a variety of efforts to create such opportunities.
Policies concerning Disclosure of Information and Constructive Dialogues
GLORY commits to "communicating with stakeholders and striving for appropriate information disclosure" in its Corporate Action Guidelines. Based on this stance, GLORY is dedicated to increasing the transparency in its management through quick, accurate and fair means of providing the latest corporate information and to gaining a better understanding of its management policies and business activities through constructive dialogues, thereby building long-term relationships of trust with shareholders and investors.
General Meetings of Shareholders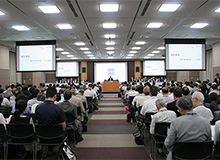 GLORY emphasizes the creation of opportunities for dialogue with shareholders, so we make efforts to vitalize our general meetings of shareholders.
We seek to have our shareholders adequately study the items on the agenda of the general meetings of shareholders, and since the ordinary general meeting of shareholders held in June 2008 we have sent out notices three weeks prior to the meeting. Every year, we find ways to make the material in the notices easier to understand, such as by including photos and graphs. Also, our introduction of computerized voting has created an environment that makes it easier for shareholders to participate in decision-making.
At the shareholders' meeting, audio-visual presentations and narrations, etc. are used by the President to report in detail on proposals to be acted upon and matters reported for shareholders to fully consider each proposal. After the meeting, the Company's showroom is open to shareholders, at which time directors, executive officers and staff members actively promote communication with shareholders by explaining about products and the history of GLORY.
Dialogue with Shareholders and Investors
GLORY actively seeks to create opportunities for dialogue with shareholders and investors to gain their understanding of our company.
For institutional investors, in order to promote their understanding of our financial results and business strategies, we create opportunities for various events such as investor conferences and factory tours. As to individual shareholders and investors, we make efforts to listen to the honest opinions and impressions by holding company information sessions and participating in various IR events.
Also, we have created dedicated IR pages on our website for the convenience of shareholders and investors and to provide timely disclosure. We strive to provide information that allows a better understanding of our company, including quarterly financial reports and annual reports. We are continuously improving the content to make it easy to understand quickly, even for those seeing it for the first time.