Glory's Corporate Action Guidelines call for "Respect for individuals / Talent development / Workplace safety," and stipulate that "We will respect each other's personality and individuality and strive to create an enriching and pleasant work environment". Therefore, we promote activities that inspire a lively approach to work.
Promoting Diversity
We respect the human rights and individuality of our employees and strive to create a workplace environment in which they can maximize their skills and careers. We engage in a variety of measures to create a workplace culture that values a can-do spirit and teamwork, and in which nationality, sex and age are not relevant.
Workforce (as of March 31, 2018)
Employees
Regular: 3,314
Adjunct or contract: 380
Gender (regular employees)
Male: 2,882
Female: 432
Disabled*
No. employed: 111
Workforce percentage: 2.24%
Rehired employees
158
Average years at GLORY
Male: 20.1
Female: 18.4
New hires (April 2018 new graduates hiring)
Male: 79
Female: 12
Managers
Male: 953
Female: 14
Percentage of workers in the labor union
55.4%
Note: Include employees of GLORY Products Ltd., GLORY Friendly Co., Ltd., GLORY System Create Ltd. and GLORY Mechatronics Ltd.
Equal Opportunities for Women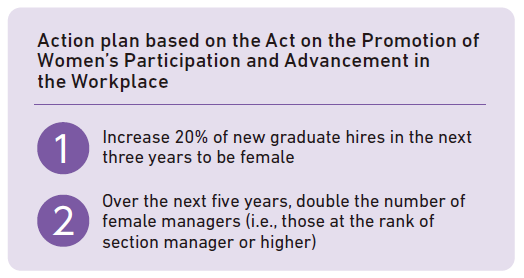 Since fiscal 2011, our efforts to raise employee consciousness about gender equality have included lectures and seminars of employees by specialists from outside the company. As a result, we have been conducting manager training, which we believe is essential to creating diversity in women's career choices and understanding at the workplace so that women can play a more active role. We also seek to nurture a more ambitious approach to work on the part of female employees and prepare them for managerial candidacy by holding "Glory Women's College program" as well as other means of invigorating our female workforce.In fiscal year 2016,Glory formulated an action plan based on Japan's Act on the Promotion of Women's Participation and Advancement in the Workplace, and has been creating a more inclusive workplace ensuring there is more female representation.
Employing People with Disabilities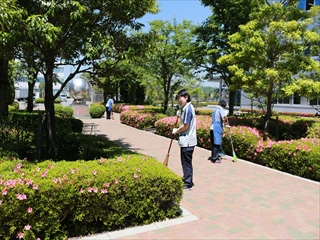 In April 1999, Glory established a subsidiary, GLORY Friendly Co., Ltd., with the specific aim of creating employment opportunities for people with disabilities. Supervised by task instructors, the workers enthusiastically carry out their work with a common motto: " Foster a creative working environment by valuing communication with one another and fully demonstrating our skills ". Their jobs include groundskeeping at Group companies, sorting internal documents and mail, and managing industrial waste.
Rehiring Elderly Workers
We have established standards for employment extension in accordance with the Act on Stabilization of Employment of Elderly Persons and in addition to securing our workforce this allows us to make effective use of our employees' stores of experience and knowledge.
Work–Life Balance
Glory has in place numerous initiatives aimed at promoting a work-life balance. These initiatives enable employees to match their job and work schedule to their lifestyle while maximizing their abilities and career potential.
Work-Life Balance Support Systems
Balancing Work and Parenthood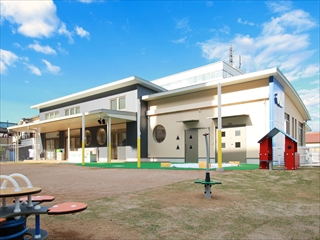 Employees can take advantage of systems that allow them to place equal importance on raising children and doing their jobs.In December 2016, Glory opened an in-house daycare center called "G Kids Home" for children of full-time Glory employees. The daycare center caters to children aged from 57 days up to the age at which they enter elementary school. Knowing that their children are taken care of on company premises gives parents peace of mind. Since April 2017, The company has also provided subsidies for parents working full-time at Glory sites (other than the Glory head office) to hire childcare services. Such measures support employees by placing an equal importance on career development and parenthood. We received the Next-Generation Certification Mark (known as the "Kurumin" mark) from the Minister of Health, Labour and Welfare in 2013 in recognition of our policies based on the Act on Advancement of Measures to Support Raising Next-Generation.
Balancing Work and Caregiving
Glory helps employees to balance work time with time spent caring for sick or elderly family members. In fiscal year 2016, Glory extended the period for nursing care leave from 180 days to 365 days per family member. Other improvements to the nursing care leave system include allowing leave in separate batches and extending the period during which employees may reduce their daily working hours.
Reducing Long Hours of Work
Glory strives to modify work processes and schedules in order to reduce constant bouts of long work hours. This helps to bolster employees' mental and physical well-being and maintain their motivation for work. In an effort to impress upon employees the importance of working efficiently so as to avoid overtime, Glory has instituted "no-overtime days" and "no-overtime weeks". And to encourage employees to go home on time, the company has also put a limit on the number of overtime hours they can work each day.
Fair Evaluation and Treatment
Created with the goal of establishing a motivating work environment, our evaluation system, which applies to all employees, encompasses the setting of targets and evaluation of results, as well as the creation of opportunities for individual consultation with superiors.Our Personnel System Guidebook concerning the Evaluation/Treatment/Remuneration System is made available to all employees, with the results of evaluations also disclosed to employees individually, thus increasing fairness, transparency and credibility.
Fostering Human Resources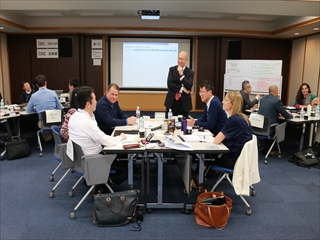 We believe that the growth of each individual employee is tied to the growth of the Company, so we conduct a variety of educational and training programs.In recent years, we have been putting effort into career education, and with the goal of producing self-sufficient personnel we have been conducting the First Career Program whereby employees consider their careers when they enter the Company, during their fourth year, and at age 30. We also have Life Career Studies in which employees consider their future life plan and how they can work to their full potential until retirement.We have also implemented an Overseas Trainee Program for practical training through on-the-job training at Glory Group companies, with the goal of cultivating global personnel.We also provide a self-improvement program offering occupational training for gaining specialized skills and knowledge, language training, IT and management courses that can be chosen by employees themselves.
Labor Union Relations
Glory has concluded a labor agreement with the Glory Worker's Union, and has established a joint labor management council with the goal of developing as an energetic corporate group. Management works with the labor union to build trust-based relationships and help promote a good work–life balance.
Occupational Safety and Health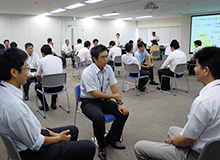 We have established safety and health committees at 13 business sites and assigned industrial physicians to help our employees manage their health and establish a safe, secure workplace that is free of accidents. An Occupational Safety and Health System is in place at the head office site. Under the System, we pursue safety efforts based on safety and health management standards at the departmental level and work to prevent disasters through risk assessment.We also have three counselors, including those inside and outside the Company, who are available for individual counseling to help preserve the mental health of our employees. We also conduct mental health training, and our counselors provide information via the in-house newsletter and the intranet, creating an environment in which employees can feel free to seek counseling.