We are engaged in a variety of efforts to achieve the mission expressed in our Management Creed: "Through a spirit of continuous development, we will provide products and services our customers can rely on."
Quality Policy
The GLORY Group operates in Japan and more than 100 countries worldwide, meeting the needs of a broad range of customers, including financial institutions, retail and transportation industries, amusement facilities and medical institutions. We strive to tailor our products to market requirements to meet the needs of each market and country. We also engage in constant technical development and quality improvement to increase customer satisfaction.
We established our Quality Policy in April 1999, and as called for under its "three priority guidelines" we offer products and services which our customers can trust.
Quality Policy
We will provide products and services in a timely manner to win the confidence and satisfaction of customers.
Three priority guidelines
1.

By sensing advanced market needs, develop products that are attractive to customers.

2.

Establish the quality of products at the earliest stage possible.

3.

Place importance on the customers' first impression of quality and on after-sales services.
To achieve the above, our company will satisfy the requirements of laws and regulations and customers' requirements, and continually improve the effectiveness of the quality management system.
Safety and Quality Control
All GLORY departments, from planning and development through maintenance, keep close ties with one another and strive to create products that satisfy customers by meeting their diverse needs through strong product and technical development conducted from a client perspective.
Many of our business sites have acquired ISO 9001 international standard certification, and each department executes thorough quality control.
Executing Consistent Quality Control

Quality Management System
GLORY exerts consistent quality control at every stage, from planning and development through post-shipping, to achieve goals in the Quality Policy.
The Quality Control Committee regularly meets to deliberate items such as measures to improve quality, the quality assurance system and human resources development. Quality is enhanced further through application of the PDCA cycle.
With regard to our product quality assurance system, the Quality Assurance Department is tasked with quality assurance from development through shipping of products, while the Maintenance Department comprehensively handles quality control in post-shipping maintenance services. We have also established the Quality Control Department to handle overall quality control, and we continue to improve our entire internal quality management system.
We hold regular product safety meetings, bringing together the related departments to implement thorough recurrence prevention measures in the event that quality issues arise in the marketplace or within the Company. The measures taken are examined, deliberated and standardized, with regular evaluations of the effectiveness of measures conducted.
Quality Assurance in Planning and Development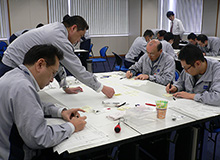 It is said that some 70–80% of product quality is determined at the planning and development stage, from which the process flows. GLORY focuses on this fact, and executes continuous improvement of the development process.
Quality confirmation is executed at every stage, from the first period of product development through manufacturing and shipping, by conducting design reviews and test evaluation. In addition, the Quality Assurance Department conducts product safety reviews to confirm the absence of safety issues and ensures that our quality and safety controls are thorough and comprehensive.
GLORY also puts efforts into education and training for quality improvement, particularly emphasizing technical skill improvement training for designers. Our level-based training includes enhanced training for young designers to develop and improve design basics.
We also hold technical presentations aimed at lateral development of technology, monitoring of market characteristics and technical skill improvement training for designers. Each department shares its top technological achievements in an effort to enable speedy provision to customers of safe, high-quality products.
Improving Maintenance Quality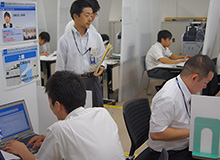 We put effort into post-shipping quality control to ensure our customers' confidence in using our products. Maintenance is handled by our approximately 1,000-member technical staff, which engages in product repairs and inspections.
Members of our technical staff strive every day to improve their maintenance skills to provide customers with rapid, reliable service. Their efforts include attending group maintenance training and engaging in self-study e-learning classes to acquire basic knowledge and practical skills. Follow-up courses are provided as needed after training, so our technical staff can maintain and increase their skill levels.
When repair is necessary, the departments coordinating technical staff arrangement, technical support and maintenance parts arrangement keep in close contact for rapid restoration.
Information Provision and Product Labeling
We focus on user-friendliness in our product labeling and user manuals, so customers can use our products with ease.
Our product labeling and user manuals are designed to be easily understandable by everyone, with emphasis on fully accurate information so that customers can execute safe and smooth product operation and daily maintenance.
Therefore, we have established guidelines for product information display/labeling and user manuals. These stipulate type styles, writing styles and other information to prevent misunderstanding and misreading.
For example, text is accompanied by illustrations, which are explanatory tools for precise expression of informative content. Also, the base color for caution displays is yellow, which encourages attention by standing out more than other text. Thus, we put our all into ensuring safe product use.
Illustration used as an explanatory tool

User manual with photos that make operation easy to understand