Compliance Framework
GLORY views legal compliance as an important management issue for the Group, so we strive to maintain or improve our compliance framework. One measure we have taken in that regard is the establishment of the Compliance Committee.
The committee is chaired by the president and includes two outside experts (attorneys at law), and deliberates important compliance-related issues. Also a chief compliance officer is appointed from among the members of the Board of Directors. The Compliance Committee Secretariat takes charge of employee education as well as planning and proposing measures for thorough compliance.
GLORY has also established four compliance helplines (including an outside helpline) for employees for early detection and correction of issues as well as protection of those seeking to consult.
Compliance Framework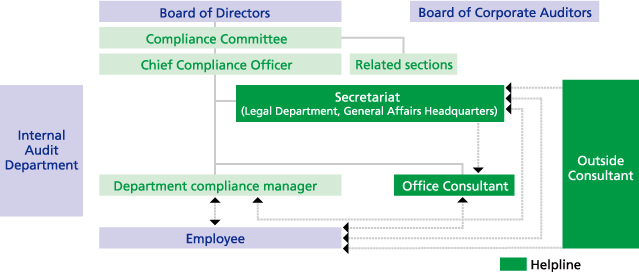 Legal Code of Conduct
In FY2012, we established the GLORY "Legal Code of Conduct" governing the laws and codes of ethics that must be adhered to by GLORY Group officers, employees and business partners, including distributors, both domestic and overseas. Through the shared compliance of all employees with this code we can continue to conduct honest and fair business worthy of the GLORY brand and maintain a high level of compliance and ethical standards.
Compliance Education
We conduct comprehensive training, including at Group companies, for thorough compliance. New employee education includes learning about basic legal and ethical issues as well as internal rules. In addition, we conduct e-learning annually for all employees to confirm understanding of basic issues and social trends.
Other programs include newly appointed manager education and special training for more thorough and precise understanding of issues concerning various laws and the writing of contracts.
We work to improve employee awareness of the importance of compliance by regularly providing case studies involving basic knowledge of contracts, social media and copyrights.
Corruption Prevention
We strive to ensure that all employees comply with rules on bribery prohibition specified in the GLORY Legal Code of Conduct. We also aim for thorough understanding of the rules through e-learning and other appropriate means of education.